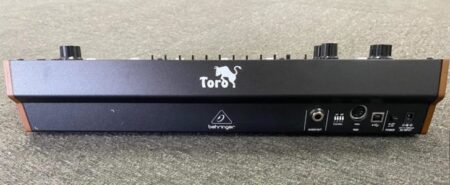 Behringer has introduced the Toro, a new bass synthesizer that they describe as "an authentic recreation of the legendary Moog Taurus Revision 1", but without the foot pedals.
In addition to copying the Taurus design, the new Behringer synth uses a knockoff name and logo.
The Toro is scaled down to fit into Eurorack format and can be removed from its case for rackmounting as part of a larger system.
The synth is a dual-VCO VCF VCA design, with envelopes for filter cutoff and volume. The synth also features four preset sounds (Tuba, Bass, 'Toro' and Variable), like the original.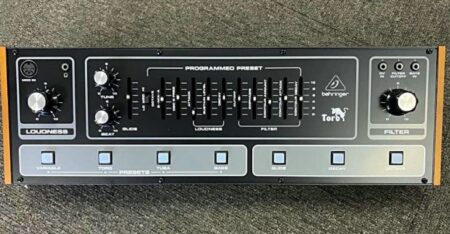 Features:
Classic Analog Bass Synthesizer with 2 VCOs, Ladder Filter and Presets in Eurorack format
Recreates the circuit design of the Taurus I bass synth
Analog signal path
2 VCOs
5-octave range
VCO A and B mix fader for full control of the internal balance
Classic low-pass ladder filter with Cut-off and Emphasis controls
Envelopes for filter cut-off and amplitude
4 'magic-sound' presets: Toro, Tuba, Bass and Variable Glide, featuring Amount slider and a dedicated On/Off button
Large Filter cutoff and Volume knobs
CV, Filter cutoff and Gate inputs for external control
16-unit Poly Chain allows combining multiple synthesizers for up to 32 voice polyphony
Eurorack format
23 controls give real-time access to key parameters
MIDI implementation with MIDI channel and Voice Priority selection
Behringer has not shared any audio demos at the time. Here's an example of an original Moog Taurus 1 in action:
Behringer says that the Toro synthesizer is fully developed, but production is waiting on chip availability. The price that they are targeting is $199.
---