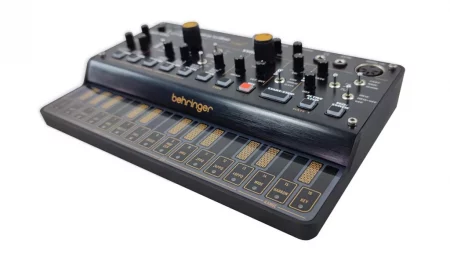 Behringer has introduced the Hirotribe, a portable groovebox in the company's 'Soul' format.
Hello to the Hirotribe, an evolution of the Korg Monotribe. And the man who designed the Korg MS-20 and Monotribe has created a new $99 analogue groovebox for Behringer
Way back in 2019, Behringer announced that it had hired Hiroaki Nishijima, designer of the original Korg MS-20, to lead a new synth development centre in Japan. Now the work at the centre is beginning to bear electronic fruit, with a new synth/groovebox instrument which is confirmed to be on the way, the Hirotribe.
Named after Hiroaki, the Hirotribe is an evolution of the Korg Monotribe, the analogue groovebox that Nishijima also designed.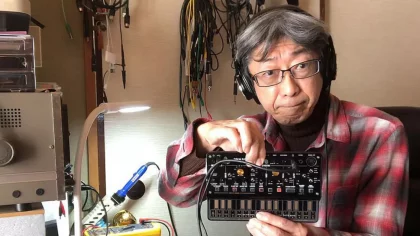 "The 'Hirotribe' is one of the analog synthesizers I always wanted to achieve," notes Nishijima. "I designed and developed the Korg Monotribe, but I really wanted to make an evolved version of it."
"I devised the panel design, specifications and the first schematic," says Nishijima. "Various specifications were added or changed during the development process, and each time the project members had a hard time. However, looking at the 'Hirotribe' that was completed in this way, the hardships seem to be a nostalgic story.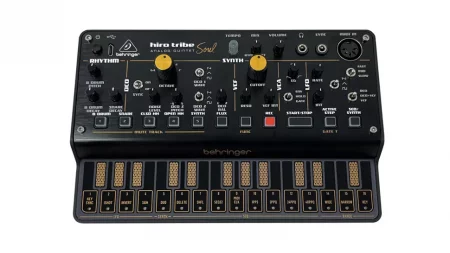 "Thank you to all the project members, you did a very good job and I am very happy. Now that the product is completed, I would be honoured if you could all enjoy this 'Hirotribe' with my heart."
The Hirotribe as an analogue groove synthesizer with a built-in drum machine and sequencer. There are two individual oscillators, with raw, triangle and square waveforms, plus a noise generator. You get an LFO with three wave shapes and a single knob envelope generator with three continuous parameters (Attack, Decay and Sustain).
The drum machine section of the Hirotribe provides kick, snare and closed/open hi-hat sounds, and there's a 16-step motion sequencer with memory slots. The touch-sensitive keyboard has 27 keys, and there's sync I/O for connection to other gear. MIDI over USB is included, as well.
Features:
Analog groove synthesizer with built-in drum machine and sequencer
Analog signal path with DCO, VCF and VCA
2 individual oscillators with saw, triangle and square waveforms
Noise generator
LFO with 3 wave shapes for modulating both pitch and filter cutoff
Single knob envelope generator with 3 continuous parameters Attack, Decay and Sustain
Analog drum machine with bass drum, snare, closed hi-hat and open hi-hat
16-step motion sequencer with and memory slots
27 touch-sensitive keys
Sync Input and Output to synchronize with your other synthesizers or drum machines
USB Micro connector allows powering via smartphone, power bank or computer
MIDI implementation (including NRPN/CC control of all parameters and bulk load/save)
The Hirotribe will be released once Behringer has the relevant semiconductors required to build it and will cost $99, and more synths from Hiroaki Nishijima and his team are in the pipeline.
---