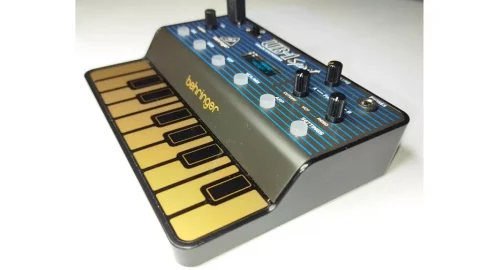 The UB-1, an Oberheim-inspired dual-oscillator paraphonic monophonic minisynth.
" We're just warming up": Behringer launches $49 Oberheim-style UB-1 mini synth and hints at more to come.
Perhaps, you thought that Behringer's synth launch deluge was done, think again, as it's just announced yet another new mini synth, the UB-1. What's more, in a further post, it says that it is "just warming up," indicating that there could be more new products to come
Similar to Oberheim colours, the UB-1 is a portable analogue instrument that's based on the 3396/3397 chip design found in that company's Matrix synths. It features two DCOs, a 4-pole filter, VCF and VCA envelopes and two LFOs.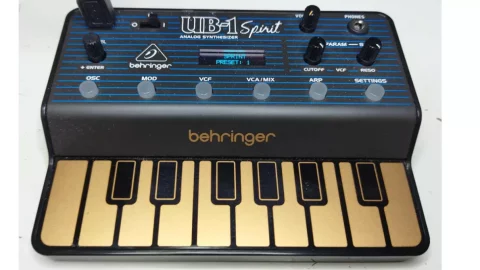 Other features include a touch-sensitive keyboard, an arpeggiator, 32 presets, an OLED display and USB/MIDI support.
Features:
Programmable synthesizer with 2 DCOs and classic 4-pole filter
Built around clone of the CEM3396/3397 analog chip used in the Oberheim Matrix 6/1000
16 touch-sensitive mini keys
32 memory presets, expandable via SynthTribe app
Arpeggiator with 3 patterns and hold function
Individual envelopes for VCF and VCA for creative sound shaping
2 LFOs to control filter and oscillator tuning
6 functions buttons and OLED display for editing
USB Micro connector allows powering via smartphone, power bank or computer
USB/MIDI implementation (including NRPN/CC control of all parameters and bulk load/save)
The Behringer UB-1 mini synth estimated price is $49, with availability to be announce once the chip available.
Das Keyboard 6 Professional - Begin to enjoy your modern workday.
Jazz Up Your Valentine's Day With Filmora
Filmora 12
Edit Anywhere,in Every Way.
New Year's Eve Party
Sam Ash Holiday Deals
AmpliTube 5 MAX $/€99.99 deal
MAX Madness - up to 83% off MAX music software bundles
TONEX Pedal
Christmas Tree Video
---