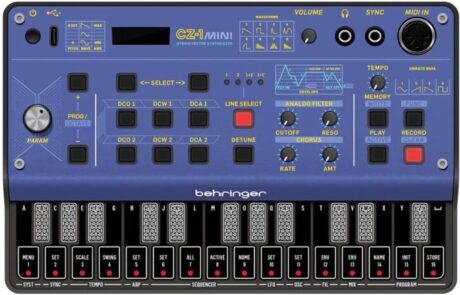 Behringer today shared a sneak preview of their CZ-1, a portable synth inspired by the classic Casio CZ-1 Phase Distortion synthesizer.
It is a 4-voice polyphonic synth in Behringer's Mini line, a set of small desktop synths designed to compete with the Korg Volca line. While some might consider the Behringer CZ-1 to be a knockoff of the Casio CZ-1, the mini-synth is so stripped-down that it's more akin to what Korg did with the Volca FM, a new design that takes inspiration from vintage synths, but doesn't really copy any specific vintage synth.
The Casio CZ-1 was the company's top-of-the-line CZ keyboard, featuring a 61-note keyboard with velocity and aftertouch, 16-voice polyphony and some interesting features, like 8-stage envelopes.
Details on specifications and availability are to be announced, but Behringer says that they are targeting a $99 price point.
---