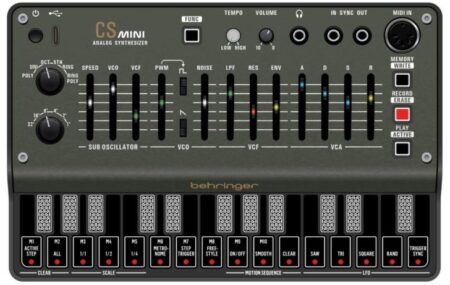 What if we could put a Yamaha CS-80 synth voice into a tiny box?' asks Behringer
Check out this "design proposal"
Behringer latest teaser, a tiny take on a voice from Yamaha's iconic CS-80, but in the Korg Volca-like body of their 'Soul' series synthesizers, is very much just a "design proposal" at this stage.
Behringer says that this slider-loaded touch keyboard instrument may be capable of up to three notes of polyphony, and would come with MIDI support and a motion sequencer.
Behringer previously announced a much larger clone of the CS-80, noting in 2021 that it had got its VCF and envelopes performing "100% identically" to the original.
Here's what they shared about the CS Mini:
"What about we'd manage to get an authentic CS80 voice into this little box, with MIDI and motion sequencer, perhaps even 3-note polyphony.
This is a design proposal only but we think it would be possible to build this jewel for US$ 99 retail."
There's no mentioned on any kind of release date, but Behringer reckons that it could put this thing together and sell it for $99. Interested?
Das Keyboard 6 Professional - Begin to enjoy your modern workday.
Jazz Up Your Valentine's Day With Filmora
Filmora 12
Edit Anywhere,in Every Way.
New Year's Eve Party
Sam Ash Holiday Deals
AmpliTube 5 MAX $/€99.99 deal
MAX Madness - up to 83% off MAX music software bundles
TONEX Pedal
Christmas Tree Video
---