At Superbooth 2023, being held in Berlin May 11-13, Bastl has introduced a new delay module, Basil.
Basil is a compact, yet flexible, digital stereo delay module, built on the Bastl Pizza HW platform. It offers clean delay, as well as lo-fi flavors, and its Space section opens the doors for exploration far beyond simple delay territory.
The Basil delay buffer modulates well, allowing users to recreate many classic time-based effects, such as chorus, flanger, vibrato, pitch shifter, reverb, and stereo widener, and navigate between them with just a few performative gestures. Bastl says that "Basil is ideal for clean effects, ambient washes, glitchy sound design, or distorted drones."
With its V/Oct input, fine delay tuning, and filter in the feedback path, it can also be used as part of a Karplus-Strong synthesis voice. Even the feedback amount is compensated with the shortest delay times to maintain constant decay characteristics when changing pitch.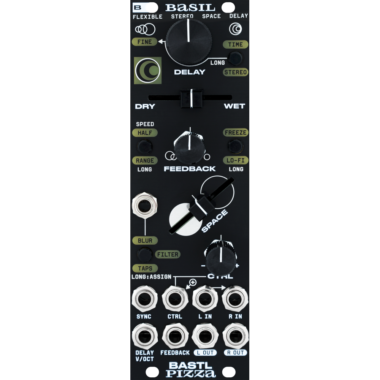 Since Basil is based on the same 8HP HW platform as the Pizza oscillator, owners of either module can easily interchange their firmware using the simple firmware update procedure. Bastl will not be selling extra faceplates, but will open-source the production and vector files for all the modules based on the Bastl Pizza platform. They plan to open-source both the code and the schematics of the module so that users can hack their own Pizzas.
Basil is available to order now for €267 excl. VAT via their B-Shop and dealer network. Shipping is expected to be in early-mid June 2023.
---