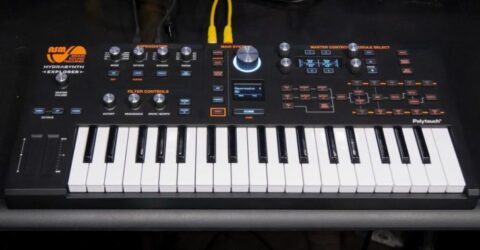 The price on the Ashun Sound Machines Hydrasynth Explorer has dropped to $499, the cheapest we have seen for this synthesizer.
The Hydrasynth Explorer packs the sound engine of the original Hydrasynth into a portable mini-key synth. It features the same powerful sound design options and even polyphonic aftertouch, but in a much more compact, battery-powerable package.
The synthesizer is an eight-voice polyphonic design, with an extremely deep voice architecture that combines wave-morphing oscillators, two filters per voice, extensive modulation options and flexible effects.
With the current sale pricing, the Hydrasynth Explorer is arguably the most powerful mini-key synth ever, and is one of the most affordable options for trying out polyphonic aftertouch.
Features:
Eight-voice polyphonic wave-morphing synthesizer
37 mid-sized keys with polyphonic aftertouch
Battery-powered option
Two OLED displays for waveform visualization and patch editing/performance display
Four endless encoders for individual or macro controls
Complex arpeggiator with extensive control options
Extensive modulation matrix with up to 32 paths
Three oscillators per voice with 219 selectable waveforms
Oscillators 1 and 2 offer Wave Scanning between user-definable wave lists
Four mutators per voice, allowing FM, several flavors of PWM, Harmonic scanning, Sync, and more
Open-ended ring modulator and noise section
Two filters per voice, with parallel or series configurations
Filter 1 offers tons of distinct types, including LPG and Formant filters
Filter 2: classic state-variable 12dB/octave morphing filter
Five looping DAHDSR envelopes with option for relating segment duration to current BPM
Five complex LFOs
Integrated delay, reverb, and various modulation effects
CV & Gate outs for easy integration into modular synth workflows
Global & per module randomization and initialization always accessible straight on the front panel, with several intelligent randomization features
Easy access to each module's internal parameters via dedicated Module Select buttons
The Hydrasynth Explorer is available with sale pricing for $499 (normally $599) via Amazon, Perfect Circuit, Sweetwater and other retailers. Details on the Hydrasynth Explorer are available at the ASM website.
If you've used the Hydrasynth Explorer, share your thoughts on it in the comments!
---