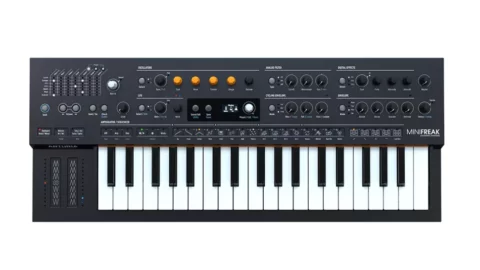 Arturia's new MiniFreak is a polyphonic hybrid synth that goes where the MicroFreak didn't… and it comes with a free VST version
Picking up where the paraphonic MicroFreak left off, MiniFreak is a new polyphonic hybrid synth from Arturia. It offers six voices, two sound engines, a 37-note slim keyboard, built-in stereo effects and numerous creative modulation and sequencing features. Additionally, it comes with a like-for-like plugin instrument, MiniFreak V, for free.
The twin digital sound engines can operate in more than 20 different modes. You can use these engines individually, stacked, or to process each other's output for "unique compound sonic behaviour".
The resulting sounds are then run through analogue filters. You can use MiniFreak as a 6-voice polyphonic synth, a 12-voice paraphonic one, or in monophonic or unison configurations.
Further sound design takes place in the modulation matrix, which offers the likes of polyphonic ADSR envelopes, customisable multi-segment LFO shapes, FM & ring modulation, and 'Spice & Dice' randomisation.
There are stereo outputs and three digital effect slots that you can fill with a choice of 10 FX types. These include chorus, three-band EQ and distortion.
The 37-note, velocity-sensitive aftertouch keyboard looks like a significant step up from the MicroFreak's capacitive control surface, and should make it much more playable. There's also sequencer/arpeggiator functionality and randomisation features.
The VST version of MiniFreak uses identical sound engines, modelled filters, presets and controls, so presets and your own sounds can be shared between this and the hardware.
Official intro video:
The MiniFreak also comes with a companion 'like-for-like' VST instrument, MiniFreak V, that you can use in your DAW.
MiniFreak is available to purchase now priced at $599/€599. Find out more on the Arturia website.
Key Features:
Hybrid polysynth power – MiniFreak's twin digital sound engines feature over 20 modes, and can be used individually, stacked, or to process each other's output for unique compound sonic behavior. Its digital voices then pass through analog filters, balancing digital crispness with a rich analog response, giving you 6-voice polyphony, 12-voice paraphony, monophonic, and unison configurations.
Customizable & experimental sound design – MiniFreak's expanded modulation matrix gives users even more control over shaping, transforming, and evolving their sound, with features like polyphonic ADSR envelopes, customizable multi-segment LFO shapes, FM & Ring Modulation, and the familiar Spice & Dice randomization.
Mix-ready stereo sound – With stereo outputs and 3 digital FX slots with 10 FX types to choose from, users will have everything they need to push their sound over the edge while keeping it mix-ready, from stereo-enhancing chorus, to surgical 3-band EQ, to gritty distortion.
Expressive PerformancerOptions – The MiniFreak offers a velocity-sensitive 37-note keybed with aftertouch and Seq/Arp functionality, plus randomization features.
MiniFreak V – MiniFreak comes with a dedicated VST counterpart, letting users totally integrate its unique hybrid sound and presets into their DAW productions and vice versa. Using identical sound engines, modeled filters, presets, and synchronized controls, users can enjoy an identical experience in hardware or software form.
Features:
6-voice polyphonic hybrid synthesizer
37-note velocity-sensitive Slim-key keybed with aftertouch
2 sound Engines with 22 oscillator modes in total
Engine 2 can be used to process Engine 1
1 envelope per voice
1 cycling envelope per voice
2 LFOs per voice
Polyphonic analog filters and VCAs
6-voice polyphonic, 12-voice paraphonic, unison, or mono configuration
3 digital FX slots in insert or send mode, with 10 FX to choose from
User-customizable LFO curves
Mod Matrix with 7 sources and 13 potential destinations
OLED display for real-time visual feedback
Intuitive 64-step sequencer (4 pages of 16 steps)
4 lanes of automated modulation
Performance Arpeggiator controls including Ratchet, Octave Randomize, and more
MIDI in/out/thru
USB connectivity
Sustain, audio in, and clock in/out connectivity
Stereo outputs
256 factory presets
256 user preset slots
Sound Engines:
Noise
Superwave
Harmo
Karplus Str.
BasicWaves
Audio In
Multi Filter
Surgeon Filter
Comb Filter
Phaser Filter
Destroy
FM/RM
Analog
Waveshaper
Two Op. FM
Formant
Chords
Speech
Modal
SawX
Harm
Bass
Effects:
Chorus
Phaser
Flanger
Reverb
Delay
Distortion
Bit Crusher
3-Band EQ
Peak EQ
Multi Comp
---