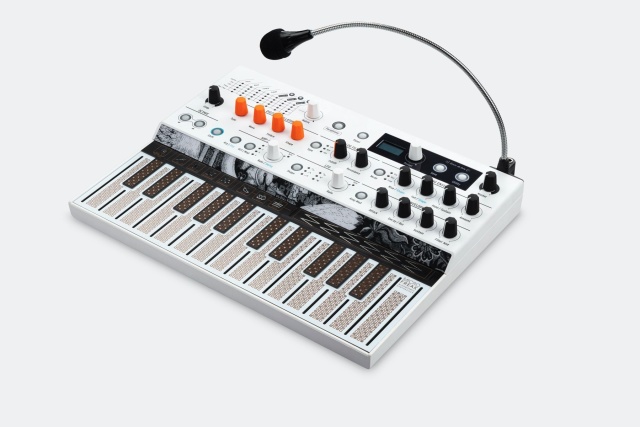 Arturia announced the MicroFreak in January 2019. This past January it added a noise oscillator, plus chord and scale modes for simplified playing.
Now, Arturia has taken another intriguing turn with the launch of a new Vocoder Edition. Arturia releases the MicroFreak Vocoder Edition.
The MicroFreak Vocoder Edition features 14 digital oscillator modes, analogue filters and modulation/randomization options aplenty, with the new 16-band vocoder mode promising to transform your voice; in the Freakiest way possible. The vocoder engine offers three waveforms – sawtooth, pulse width and noise. And the Timbre and Shape knobs that adjust the response of the 16 frequency bands. The 16 presets, meanwhile, take you beyond standard robot voices – expect 'android translations', harmonies and formant sequences as well.
In addition, you can also twist other sounds with the vocoder – just hook up a synth or anything else and off you go. The headphone port on the Vocoder Edition has a TRRS connector, so you can plug-in in a suitable smartphone in-line mic with TRRS connector and enjoy the vocoding functionality for yourself. The control panel has been given a makeover, and the centre strip now has a Swan graphic. This model comes in a white finish.
The Arturia MicroFreak Vocoder Edition will be available for a limited time.
Arturia MicroFreak Vocoder Edition Hybrid Synthesizer 25-Key Paraphonic Hybrid Hardware Synth and Vocoder with Poly-aftertouch Flat Keyboard and Gravity Phone Holder Bundle
---