French synth maker Aodyo Instruments has launched a Kickstarter project to fund production of the Anyma Omega Polyphonic Physical Modeling Synthesizer.
Anyma Omega is a powerful hybrid polyphonic and multitimbral synthesizer, featuring a physical modeling synthesis engine designed to create new sounds inspired by the real world, where objects collide, vibrate, and resonate.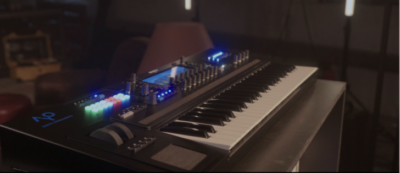 Anyma Omega comes in two versions, desktop and keyboard, both including a large display and many controls, with unique sensitive wooden surfaces to feed resonators and enhance expression. Featuring 16-notes polyphony, Anyma Omega can layer, split or even chain up to 4 different sound parts.
The semi-modular synth engine of Anyma Omega covers a wide range of synthesis techniques (physical modelling, but also virtual analog, wavetable, FM, etc.) with its large collection of oscillators, FX and modulators. Many of the available sound sources were inspired by Emilie Gillet's work on Mutable Instruments modules.
In addition, Anyma Omega offers – for each voice – 123 different module types, including 44 sources, 33 FX, and 46 modulators.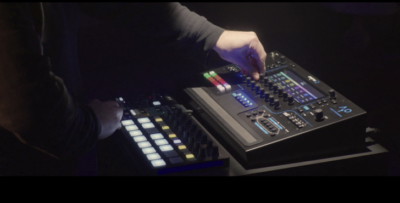 Features:
Physical Modeling Synthesis – Anyma Omega blends the classic ingredients of electronic music with physical modelling technology, allowing it to simulate acoustic sound sources, such as strings or reeds, as well as resonating structures, like wood, glass, or metal.
Polyphony – 16-notes polyphony with all the richness of Anyma's synthesis engine.
Multitimbrality – 4 sound parts splitted, layered or even chained.
Expressive Performance – Proven Fatar velocity sensitive semi-weighted synth action keybed with aftertouch for musical and expressive playing. Numerous controls to enrich the performance and unique sensitive wooden surfaces (ribbon and touchpad) to feed resonators and enhance expression.
Easy Editing – Easy access to 14 macro parameters controlling the main characteristics of patches. Tweak every parameter of every module with the large display and controls, unleashing the power of a semi-modular synth at your fingertips. Direct access to the various modules thanks to the interactive synthesis path diagram.
Smart Randomization – Create aleatory consistent patches, by pushing a single button, based on smart random algorithms.
Polymorph – Beyond polyphony, the exclusive PolyMorph feature can provide extra width, density and depth to the sound: fine-blend panspread, unison, expression and morphing for every single note.
Tuning and Microtuning – With Anyma Omega you can use any scale or tuning to make your sound travel all around the world and the eras. You can also load Scala (.scl) or Anamark (.tun) files in Anyma Omega by converting them to MIDI Tuning standard (MTS) format. In addition to importing and exporting tunings, there are several options that can be used to define and edit tunings directly on the instrument: reference tone adjustment, 12-tone octave scale, tuning table for each note and n-EDO scales.
Connectivity – With a lot of input and output ports, Anyma Omega easily connects to all the machines, synths and controllers. It is compatible with any standard MIDI controller.
Free Editor/Librarian – Free multi-platform editor/librarian inherited from and compatible with Anyma Phi's sound bank. Organize, archive and share your Anyma patches and performances.
Specifications:
Hybrid 16 notes polyphonic synthesizer
4 parts multitimbral
Flexible audio routing between parts and external audio I/O
Dual stereo audio output: 4x 1/4" mono line jack outputs
Dual stereo audio input: 4x 1/4" mono line jack inputs
Dual stereo headphones output: 2x 1/4" stereo headphones jack output (front and rear sockets)
MIDI inputs and outputs via USB and DIN ports (USB device for computer/DAW connexion, USB host for external USB-
MIDI controller, legacy MIDI DIN In/Out/Thru)
Memory: 1000 individual user patches, 200 performances, 16 user microtonal scales
ARP and sequencer: Arpeggiator or simple 16 steps sequencer on each part (with or without key transpose)
Powerful digital semi-modular synthesizer engine:

3 oscillator slots
5 FX slots (including filters, resonators, …) + 1 reverb
2 audio buses for mixing and FX assignation
16 modulator slots, including DAHDSR envelope generators, LFOs, curves, sequencers, interpolators, slew limiters, physical modelled modulators, etc.
32 mapping slots (virtual patch cords), each allowing to control any synth parameter (including another mapping) using a modulator or a controller input, with scaling, curves and a sidechain input.

Built-in 100-250V AC power supply
Production of the Anyma Omega is being funded via a Kickstarter project and it is available to project backers starting at about $870. Regular pricing for the Desktop version is €1200, and for the Keyboard Version, €1650.
*Note: Kickstarter products can involve risk, which is documented at the project site.
Aodyo Instruments is aiming to ship the synths in June 2023.
---