Analogue Solutions has introduced Ample, an analog matrix synthesizer that they say "combines the best elements of several of our recent products", including:
The sound elements of Fusebox
Jack patch points of Concussor Eurorack
Patch pin matrix of Vostok
Echo from Dr Strangelove
Sequencer and CV touch pads of Generator
Aside from MIDI support, the company say everything else is "totally analogue, using real transistors and op-amps". There are no CPU-stabilised and quantised circuits, no DCOs, no digital LFOs and no digital EGs.
The circuitry is based on designs dating back to the mid-1970s, so they say that Ample has "a genuine old sound".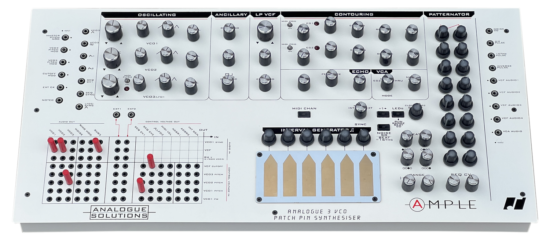 Features:
3x Analogue Oscillators
VCO3 can easily be used as a LFO
2x Analogue Low Frequency Oscillator
LFO2(/Sync) has a triangle wave output
CO3 can be used as an LFO and has Saw, Triangle and Square wave modulation signals
Analog Filter – four pole 24bB per octave low pass filter.
The VCA can be set to THRU so it is always 'open'. This allows Ample to be used as an effects processor.
2x Analog Envelopes
MIDI support – they say that "MIDI is intentionally kept simple, so you can concentrate on making new sounds and making music, not getting tied up with SYSEX programming. You get the all-important control over filter cut-off using MIDI Velocity."
Patchable External CV Control Sockets
Sequencer – Ample has a vintage-style 16-step sequencer.
Touch Keys – There are 6 touch keys that each output a set voltage.
Echo
First look video from Starsky Carr:

Analogue Solutions Ample is available now for £1999.
---