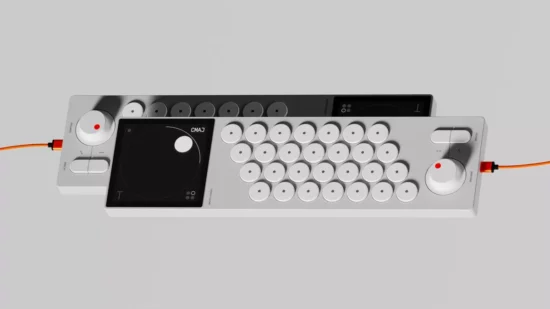 Akuto Studio is previewing the Chord Machine, a slick-looking new MIDI controller with a button keyboard that can be played in accordion, piano and Tonnetz configurations.
Is Akuto Studio's Chord Machine AKT-0.1 an Omnichord for the OP-1 generation?
The AKT-0.1 features 28 round keys, two shift keys and an infinite rotary encoder on one side, and a four-inch capacitive touchscreen on the other. This screen enables you to play up to four effects simultaneously and trigger notes in direct, bimanual and strum modes.
When you are playing, the rotary knob can be used to move through semitones and octaves, and to adjust the pitch of any chord. Because the device can be flipped through 180 degrees it offers ambidextrous usage, which is a nice touch.
Connectivity is via USB-C (there's no mention of Bluetooth MIDI) and the AKT-0.1 is built from a combination of aluminium and ABS thermoplastic.
The chord button/strumming combination makes us wonder if the AKT-0.1 may have been at least partly inspired by the Omnichord, which itself is enjoying something of a renaissance at the moment and is being revived to celebrate manufacturer Suzuki's 70th anniversary. The styling, meanwhile, calls to mind Teenage Engineering's ubiquitous OP-1.
A Kickstarter campaign for the AKT-0.1 will kick off on 25 April.
If the Chord Machine looks like a bit of you, you can join the waiting list and qualify for an $80 discount via the Akuto Studio website.
View this post on Instagram
---