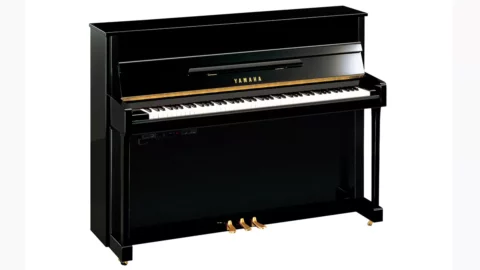 Yamaha TC3 pianos introduced at The 2023 NAMM Show. Yamaha has expanded its range of TransAcoustic pianos with the launch of the TC3 uprights. Like other products in the TransAcoustic line-up, these promise to give you the sound and touch of an acoustic piano but also enable you to mute or control the volume using digital technology.
Yamaha first introduced the TransAcoustic piano concept back in 2014, but with the TC3, it's adding the technology to its b series, JU109 and UJ1 compact upright pianos. The system works by attaching a transducer to the soundboard, and is designed for those times when you need to practise quietly.
The transducer used here has been developed specifically for uprights; it converts digital sound information into vibrations and delivers them to the soundboard. This in turn vibrates and joins the resonance of the strings to turn the entire piano into a resonator. Digital sound sources can be used to produce "natural acoustic sound" from the body of the piano, meaning it's possible to control the volume when playing without the need for headphones.
Yamaha has also included its Articulation Sensor System. This places sensors under all 88 keys, and these communicate wirelessly with the piano to create what's said to be a more natural playing experience.
On the sound front, Yamaha's Grand Expression Modeling technology promises to deliver rich tonal variation by detecting the force and acceleration of the keystrokes and changing the audio output in real-time.
In another nod to modernity, the TC3 pianos also include Bluetooth audio and MIDI for syncing with apps such as the Yamaha Smart Pianist.
Prices and release dates for the TC3 pianos are still to be mentioned, but you can find out more on the Yamaha website.
---