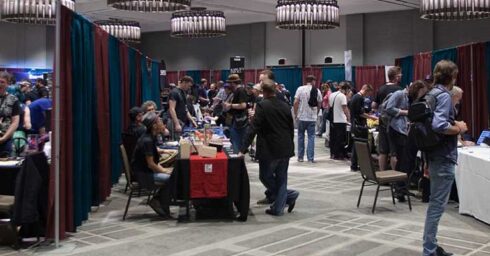 Knobcon Number Nine kicks off this Friday, September 10 at the Hyatt Regency Schaumburg, with two full days of synthesizer and pro-audio exhibits, informative lectures and workshops and live music throughout the weekend.
There will be special precautions this year, to align with state guidelines and to make the event as safe as possible for attendees. Changes include mandatory masks, larger rooms to allow for social distancing and eliminating the Saturday synth banquet.
Knobcon 2021 will offer three days of events and a chance to connect with synthesist from around the country and around the world.
Organizer Suit & Tie Guy of STG Soundlabs let us know some of the highlights planned for this year's event:
Two Days of Informative Workshops
The Littoral Myth: Dismantling a Coastal Metaphor with Marc Doty.
Sampling, Re-Sampling, and Generative Sequences with Circuit Rhythm & Tracks with Novation Technology Evangelist, Enrique Martinez.
Presenting Electronic Sound Naturally with synthpop polymath, Jon Sonnenberg.
Additive Synthesis with Synergy presented by long-time Synergist, Fred Becker.
Simplifying Complexity: Live Rig Breakdown, a show and tell by Suit & Tie Guy.
Learn the basics of Synth DIY and soldering with build workshops where you can build an EasyEi8ht Step Sequencer with Modular for the Masses, or a 2hp MiniAtt 2hp Utility module with Zlob Modular.
New this year is the Lecture Luncheon, an informal get together on Sunday afternoon where attendees can further interrogate any of our presenters about their ideas.
Door Prize Giveaway
On Sunday, attendees can enter the drawing for a chance to win one of over twenty door prizes including Nu:Tekt NTS-1 synthesizers from Korg USA, an Uno Drum from IK Multimedia and a gift box full of patch cables and accessories from Hosa Technology.
Live Music Friday and Saturday
Welcome Reception (Friday Night) – Kri Samadhi, Moot Booxlé vs Cory Flanigan, Suit & Tie Guy vs Alexis Rogers, Also Special Guests
Knobcon Big Room (Saturday Night) – Trovarsi vs Nasty Nachos, Scott Danesi, Glacial 23, North Coast Modular Collective Relay Performance
Knobcon Chill-Out Room (Saturday Night) – Dysonant, Valcove, Meridian Alpha, Aaron Higgins, Witchbutter, R. Mann
Knobcon Number Nine is September 10th through to 12th, 2021, at the Hyatt Regency Schaumburg in Chicagoland. Tickets are $60 and are available for purchase at the event site.
---