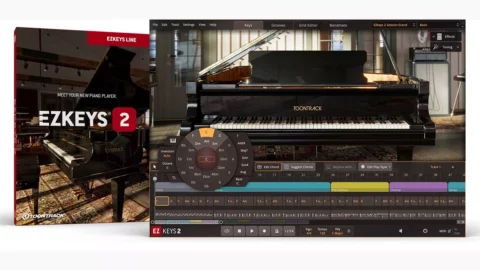 Toontrack's EZkeys 2 makes it even easier to create piano parts for your  songs and could even help you write them
Toontrack has introduced EZkeys 2, a new version of the software that is designed to help you create piano parts for your songs when you can't or won't generate them yourself.
This is said to have been rebuilt from the ground up and offers a new, fully resizable and scalable interface. Right out of the gate, you should notice that it sounds better, too, with a new sampled grand piano that was captured using a wide range of mics and ambiences. There's a new MIDI library as well, which covers multiple playing styles and genres, and a change to the business model means that the core sound library now comes included.
Apparently, EZkeys 2 is also smarter than its predecessor, with a Tap2Find feature enabling you to find grooves based on rhythms and notes that you input. The Bandmate will select chords and grooves based on your own audio or MIDI, and there's a built-in grid editor with humanization, scale matching, timing features and more.
The Tap2Find and Bandmate features in EZdrummer 3, which was released last year. And, like that software, EZkeys 2 comes with mix-ready presets for use in your projects.
EZkeys 2 will be released in May, but existing EZkeys users can pre-order their upgrade now and save up to $20. If you're new to the software, you can buy an existing version of EZkeys now for €179 and get the version 2 update when it is released.
Find out more on the Toontrack website.
---