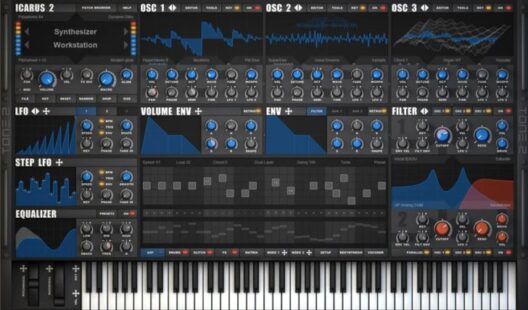 Best Service has announced the availability of Tone2 Icarus2, a major update to the powerful software synth workstation.
Icarus2 offers 54 different synthesis methods and provides a gigantic sonic range – including 3d-wavetable synthesis, 53 effects, a vocoder, hypersaw, 62 filter types and more. The audio engine can create classic synths sounds, but also has the range to let you create unique original sounds.
*Features:
Icarus2 is described as 'the most advanced wavetable-synthesizer on the market, but not limited to wavetable-synthesis"
The audio-engine can do 54 different synthesis modes
The 3D-wavetable-synthesis allows a new dimension of dynamic expression
High-end sound-quality with low CPU-requirement
Easy-to-use interface with animated displays and context-sensitive help
Wide sonic range
Over 1600 presets
GUI with 12 sizes, 3 zoom-levels and 26 color-schemes
Drag & drop modulation
Drum-sequencer with 100 drum-patterns
Powerful arpeggiator with autochord-support, shuffle and swing
3 x 53 effects, vocoder
Glitch-sequencer
10x stereo hypersaw, unison, stacks, chords
Polyphonic, monophonic, several legato modes
Dual multi-mode filters with 62 filter-types and 8 distortion-types
Customizable user-interface
Expandability, modular
Icarus2 is available now for $169.
---