Following a suggestive teaser video last week, Cherry Audio has unveiled their latest plugin, a software emulation of the classic Roland Jupiter-4 synth.
At Superbooth 2021, Cherry Audio announces Jupiter-4 emulation, Mercury-4, a new software synthesizer for Mac & Windows.  The Mercury-4 has been "expertly modelled" on the vintage Jupiter-4 owned by Greg Hawkes of The Cars
The Mercury-4 is a said to be a (mostly) faithful recreation of Roland's iconic Jupiter-4, which improves upon the design of the original by adding 16-voice polyphony, infinite patch storage, velocity sensitivity, and MPE support. Roland's Jupiter-4, first manufactured in 1978, offered limited patch storage and only four voices of polyphony.
To accurately replicate the sound of the Jupiter-4, Cherry Audio have modelled the plugin on a vintage copy of the synth owned by Greg Hawkes of '80s new wave legends The Cars, that can be heard on their double-platinum 1981 release Shake It Up. The Mercury-4 also comes with an integrated emulation of Roland's famed tape delay, the Space Echo.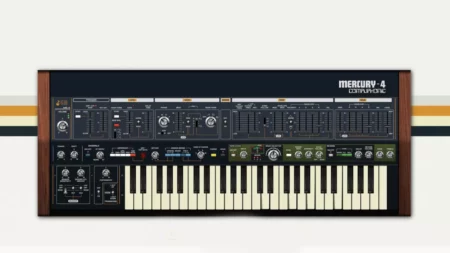 Here's what they say about it:
"It's the rarest and most sonically unique of the fabled Jupiter series, and we've gone to great lengths to recreate the subtle (and not-so-subtle) nuance and character of this beloved classic. Every aspect of Mercury-4 has been expertly modeled upon a vintage Jupiter-4 originally owned by Greg Hawkes of the legendary 80's new wave band The Cars.
The Jupiter-4 had its share of disadvantages, including limited patch storage, just four voices of polyphony, and boat-anchor weight. Cherry Audio's Mercury-4 improves upon the original's design by offering 16-voice polyphony, infinite patch storage, velocity sensitivity, MPE support, and much more. We've even paired it with a fantastic model of the classic Roland Space Echo tape delay!"
Features:
"Authentically modeled" oscillator with sub-oscillator.
All filter characteristics modeled, including powerful low-frequency resonance.
Up to 16-voice polyphony.
Over 300 presets, programmed by industry veterans.
Unique arpeggio section w/tempo sync.
Wide-range LFO modulation with "inverted" mod characteristics.
Drift control for increased analog realism.
Stereo ensemble effect.
Tape echo style effect, with multiple reverb modes.
Tempo-syncable LFO.
Detunable unison mode.
Single-key chord memory mode.
Low CPU load.
One-click UI magnification.
MPE support.
Full MIDI control and DAW automation for all controls.
Find out more about the Mercury-4 on Cherry Audio website.
Mercury-4 is available now for Mac & Windows with an intro price of $39, normally $59.
Go Paperless with Edraw OffersUp to 60% off creativity products
Wondershare DemoCreator Summer Sale 2021
---