Superbooth 2021: Arturia has introduced SQ80 V, a new virtual instrument for Mac & Windows that is based on the Ensoniq SQ-80 from 1988.
The original Ensoniq SQ-80 is a hybrid synth, which offered more waveforms and a better keyboard, and now Arturia has revived this in the form of the SQ80 V plugin.
With SQ80 V, Arturia has recreated the sound of the original using hardware modeling. But they've also expanded on the original's design with a variety new features, including:
The arpeggiator – including arp direction, sync, octave range, and hold.
Unison – SQ80 V offers up to 16-voice polyphony – twice that of the original hardware instrument – plus ann 8-voice unison option for creating massive sounds.
Dispersion – subtle variations and inconsistencies in the behavior of its emulated circuitry that mean no two notes will ever be exactly the same,.
Envelopes expanded – Arturia included 2 additional envelope modes: DADSR and MSEG. The former adds a delay stage to the traditional ADSR for staggered strikes and interesting rhythmic patterns. The latter is a fully-customizable looping function generator.
The Mod Mixer – Combine any 2 modulation sources, from envelopes to keyboard controls, to distort, mangle, and refract your patches in interesting and unexpected ways. With 6 different modes of modulation mixing, the combination possibilities are enormous.
MPE compatibility – SQ80 V supports MPE-compatible controllers for advanced expression.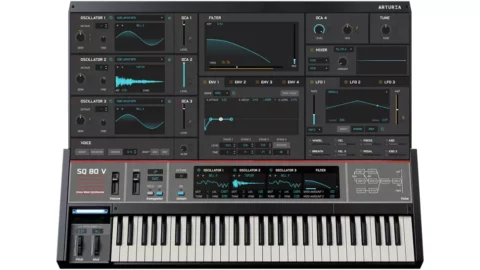 Features:
3 digital oscillators based on the original DOC chip
Over 400 waveforms across 4 unique banks
Amplitude Modulation and Hard Sync
4 analog DCAs; 1 for each oscillator, 1 master output
Analog resonant low-pass filter based on the original CEM chip
4 polyphonic envelope generators with 3 modes; SQ80, DADSR, MSEG
3 LFOs with 6 waveforms
8 MIDI sources
Modulation mixer for combining 2 modulation sources
Built-in 7-mode arpeggiator
Up to 16-voice polyphony with Unison mode
4 FX slots across 2 busses, configurable in series or parallel]
15 master effect types
Advanced Brightness, Timbre, Time and Movement macro controls
200+ factory presets, including 40 from the original SQ-80 instrument
MPE compatibility
The official video overview:
Billed as a digital/analogue Frankenstein synth that's bursting with grainy character, the SQ-80V emulates all the features of the original – including the three digital oscillators and analogue filter and amp – and brings the instrument up to date with modern enhancements.
These new features include hundreds more waveforms, an arpeggiator, MIDI modulation, 15 built-in effects with two busses, and MPE compatibility.
The SQ-80's crunchy sound has been recreated by emulating its 8-bit DOC chip, while the facility to combine wavetables, instrument-style transients and hidden waveforms means there's plenty of sound design potential.
This is designed to be a "quick-fire" synth, too; although the SQ-80's architecture was pretty complex, thanks to the new streamlined workflow, the theory is that you'll be able to get hands-on and make the sounds your own pretty easily.
Speaking of which, those sounds include resonant bells, vocal-like formants, crushed basses and delicate strings. In fact, Arturia claims that the SQ80 V's sound is unique, being "unlike anything you've ever heard".
To mark the release of the synth, the company has also put together two soundbanks. Dust Factory focuses on smooth, saturated patches, while Raw Machinery is grittier, with a distorted edge. The SQ80 V also ships with 100 presets as standard – 40 from the original synth, and 60 created by Arturia.
The SQ80 V is available now for PC and Mac in VST/AU/AAX formats, and is currently priced at $99, a 50% discount (this offer runs until 5 October and includes the two soundbanks).
Find out more on the Arturia website.
---