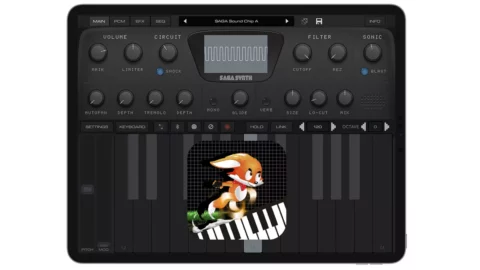 AudioKit Pro has introduced SAGA Synth for iOS, a new app that they describe as a "super-fun retro 16-bit video game synth."
AudioKit Saga Synth is inspired by a classic 16-bit games console, the Sega Mega Drive (or the Genesis if you live in North America).
Featuring samples from no less than five Yamaha YM2616 soundchips – the one that was used in the Mega Drive – plus the first-edition version of the MEGAfm  synth, Saga Synth is an 16-bit nostalgia fest. It comes with more than 300 presets – many of which have game-specific names that give you a good idea of what you'll be getting – and includes Brian Funk's 16-bit soundpacks, which were previously exclusive to Ableton Live.
An overview of SAGA Synth from Moby Pixel:
Saga Synth is the first instrument to be built using AudioKit's new, more stable code. Sounds are created using two layers, there is a free-running step sequencer, and the preset library includes synth, drum and FX patches. There are some suitably chiptuney effects, too, including the appropriately named Sonic Blast overdrive.
You can use Saga Synth either standalone (a built-in audio recorder enables you to capture your retro musings) or as an AUv3 plugin. Ableton Link is supported, as well.
Features:
Standalone app & iOS AUv3 Plugin
Over 300+ presets to inspire you
Fun free-running step sequencer
Exclusive sound sources made for this app
New, more stable AudioKit code
16-bit Synth, Drum, and Sound FX sounds included
Over 600+ mb of sounds compressed to under 150 mb
Audio recording, record your sounds then export wav files.
Use as an iOS Plug-in in hosts like GarageBand, AUM, Cubasis, Beatmaker 3, and more
Use with MIDI keyboard or iOS MIDI host
Ableton Link
Includes full lifetime license for both iPhone & iPad
Find out more on the AudioKit Pro website. Saga Synth is available now for the intro price of $2.99 through January 31st (normally $14.99).
---