Silen Audio Infinite Flow captures the 'sonic imperfection' of vintage analogue synths in software.
Silen Audio has announced the release of its first ever plugin. Infinite Flow is a virtual analogue synth designed for capturing the unique sonic character of classic polysynths and recreating the sonic imperfection of vintage analogue  instruments.
The designers of Infinite Flow tell us they carefully captured the character of 12 different analogue polys in developing the plugin; by the looks of the preset names they've taken inspiration from the Yamaha CS-80, the Oberheim OB-4 and the Roland Jupiter-8, among others.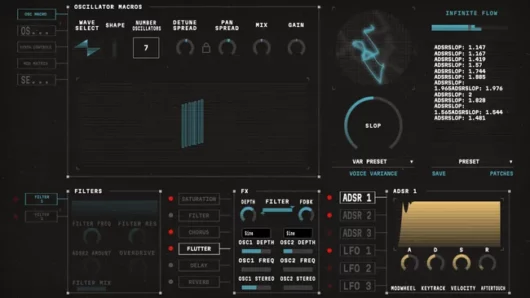 You can choose between these 12 models, dial in the desired amount of 'Slop' (Silen Audio's term for analogue modelling), randomize the voice variance parameters or even create your own models to be used with Infinite Flow.
The synth is equipped with eight voices and seven oscillators, each of which can be individually detuned and panned to create rich, full-sounding patches. There's two multimode filters onboard with built-in overdrive, and five effects including delay, reverb, saturation, flutter and chorus.
You've also got three envelopes for tone-sculpting and three LFOs for modulation, which can be applied on a per-voice basis using the modulation matrix by those looking to design complex, evolving sounds.
Infinite Flow No Talking & Play Demo:

Infinite Flow is available for Windows and Mac in VST3 and AU formats. The plugin will set you back $179.99, or it can be purchased on a $9.99/month rent-to-own plan.
Find out more on Silen Audio website.
---