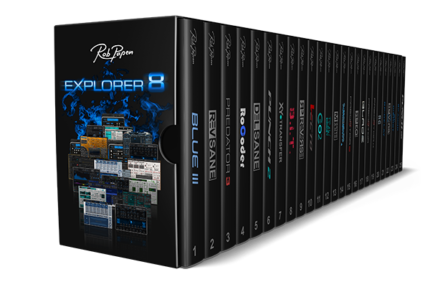 Rob Papen Inspiration Soundware has introduced eXplorer-8, the latest edition of its software synthesizer collection.
The updated bundle adds the BLUE-III virtual synthesizer and RevSane virtual effect plug-ins, so the comprehensive collection now includes all 30 Rob Papen products currently available.
Papen's introduction to BLUE-III:
RevSane is a plug-in designed to create beautifully dense reverb sounds fit for working with any track, in the first instance, though that is only one side of this particular production story. Users can control the flow of the reverb parameters using the so-called DISRUPT 'sphere' to turn RevSane into a dynamically fresh-sounding special effect plug-in, permitting users to think outside of the fourth dimension by using reverb in creative ways.
Rob Papen RevSane introduction:
eXplorer-8 is available with a time-limited promotion price of €374.00 /$374.00 throughout November 2022, rising thereafter to its regular price of €499.00 /$499.00
BLUE-III is available — as a 64-bit AAX-, AU-, VST- and VST3-compatible virtual instrument plug-in for Mac (OS X 10.13 or higher) and as a 32- and 64-bit VST- and VST3-compatible virtual instrument plug-in for PC (Windows 7/8/10/11) with 64-bit AAX-compatibility available for PT 12 or higher (PC) — at a time-limited promotion price of €111.00 /$111.00 throughout November 2022, rising thereafter to its regular price of €149.00 /$149.00
RevSane is available — as a 64-bit AAX-, AU-, VST- and VST3-compatible virtual effect plug-in for Mac (OS X 10.13 or higher) and as a 32- and 64-bit VST- and VST3-compatible virtual effect plug-in for PC (Windows 7/8/10/11) with 64-bit AAX-compatibility available for PT 12 or higher (PC) — at a time-limited promotion price of €36.00/$36.00 throughout November 2022, rising thereafter to its regular price of €49.00/$49.00
---