The Rhodes V8 is a plugin emulation of the MK8 electric piano.
Rhodes has released a Rhodes V8 Plugin, the first official Rhodes plugin, featuring a "faithful deeply sampled and modeled recreation' of its recently introduced Rhodes MK8 electric piano.
In fact, it has released two versions of it: the standard V8 and V8 Pro. The V8 is a virtual instrument, features over 30,000 samples spread across 100 velocity layers.
The V8 also emulates the MK8's preamp section; this features Drive and Low/High EQ, plus a Vari-Pan effect with Rate and Depth controls. In addition, there's a suite of presets, designed to demonstrate the MK8's tonal range and give you some experimental sounds.
If you are willing to spend a bit more, you could go for the V8 Pro, which adds the MK8's Envelope parameter. This enables you to create envelope-controlled effects such as auto-wah, and gives you audio rate modulation on the Vari-Pan circuit.
You also get the Compressor, Chorus, Phaser and Delay effects from the MK8's FX section, while the Setup page offers per-note control over Timbre, Fine Tune, Level and Damper response. You can tweak the mic and amp settings, too.
The first video above, offers a deep overview of V8. The second video, below, covers the advanced features:
The V8 and V8 Pro run on PC and Mac in VST/AU/AAX formats and are priced at $180/£150/€170 and $300/£250/€275 respectively.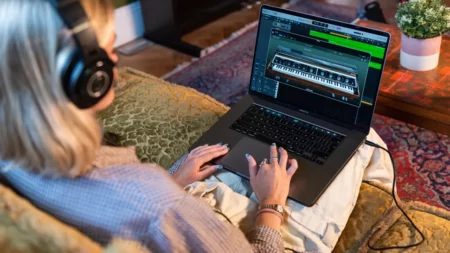 To celebrate the launch of the V8, Rhodes has made a new short film, Missing Keys, featuring Yard Act's James Smith, which forms the basis of a contest. As its name suggests, the film is missing a keyboard-led soundtrack, and you're being invited to create one using the 45-day V8 plugin demo.
This can be in any genre you like – the only stipulation is that Smith's vocals must remain unedited and the V8 must feature prominently.
If you want to enter the contest, you need to upload your entry by 1 March. After this, Rhodes will select the best five entries and send them to a celebrity panel of judges that includes James Blake and James Smith, and they'll pick a winner during a 30-minute livestream on the Plugin Boutique YouTube channel.
Find out more and download your demo on the Rhodes website.
---