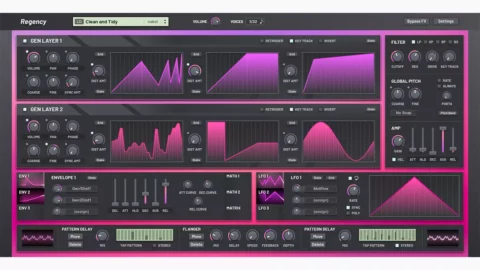 Regency is a free phase distortion synth plugin that harks back to Casio CZ keyboards. A slick-looking freebie that supports the new CLAP plugin standard.
Pioneered by Casio in the '80s in its CZ keyboards, phase distortion synthesis still rears its head in software plugins today. In fact, it's inspired a new free one by nakst, known as Regency, which looks pretty accomplished.
Promising a "multi-tiered phase distortion system," this features two generator layers, each of which has three editable multi-segment curves. These can be applied to distort the phase of each generator in series, in modulatable amounts.
Those are the headlines – dive down a bit and you discover that there are quite a few modulation options on offer. As well as the the four envelopes and three multi-segment LFOs, there are two math modulators, which can be used to shape and warp other modulation sources.
Each modulation unit also has a number of built-in assignment slots, and further fun can be had in the six-slot modulation matrix.
Down at the bottom of the UI you'll find three effect slots, each of which can host one of Regency's six effects (bitcrusher, flanger, pattern delay, trancegate, delay line and a five-band EQ). These can be reordered as you wish – it is possible to use the same effect multiple times, as well.
Regency runs on PC, Mac and Linux, and promises to automatically detect which CPU you're using and select the optimal code to ensure the best possible performance. It arrives in the new CLAP plugin format, which is currently supported by Bitwig Studio, Cockos Reaper, MultitrackStudio and a number of other DAWs. It also runs as a Mac AU plugin, and there's also a native FL Studio version.
Find out more and download Regency on the nakst's Audio Plugins website.
---