NUSofting has introduced Sinmad, a hybrid virtual analog + physical modeling synthesizer for Mac and Windows.
Sinmad is a VA synth, but, in addition to the the standard subtractive resonant filter, it uses a resonant delay network, creating sounds that the developer describes as 'wild' and 'organic'.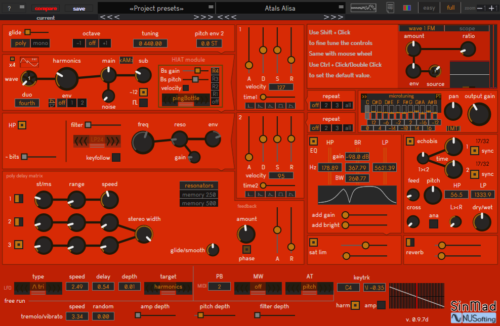 Features:
Multiple oscillator, including standard waveforms and FM, sub oscillator, noise and the one-shot sample player with special functions called HIAT [harmonically integrated attack transient].
Main subtractive filter (VCF), plug a fixed HP pre-filter and bit depth reduction.
Polyphonic delay matrix , a highly configurable feedback delay network (FDN) featuring three delay lines per voice [E.G. your can have 9 modulated comb filters in a 3 notes chord].
Three envelope (2 x ADSR, 1 x AR) and two LFOs.
Custom equalizer : HP, Notch, LP , Hi boost :to shape the timbre before the effects sections.
Effects : # saturation limiter combo ('sat lim') to emulate amp high gain, # 'echobis' a double delay effect with sync to time and pitch functions, # reverb in two flavors.
MIDI controls : pitch-bend 24 st range, assignable modWheel (CC1), assignable aftertouch, assignable keytracking
Microtuning (per octave) editable on GUI.
Sinmad is available now for €81,50. Audio demos are available at the developer's site.
Das Keyboard 6 Professional - Begin to enjoy your modern workday.
Jazz Up Your Valentine's Day With Filmora
Filmora 12
Edit Anywhere,in Every Way.
New Year's Eve Party
Sam Ash Holiday Deals
AmpliTube 5 MAX $/€99.99 deal
MAX Madness - up to 83% off MAX music software bundles
TONEX Pedal
Christmas Tree Video
---