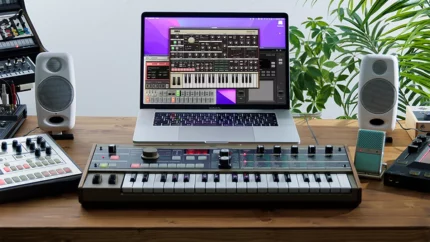 Korg heads back to the '90s and '80s as it adds microKorg, Electribe and Kaoss Pad plugins to version 4 of its software collection
Korg today introduced Korg Collection 4, an updated version of its virtual instrument collection that adds software versions of the classic microKorg synthesizer, Electribe-R drum synth and Kaoss Pad effects processor. The three Korg products can now be used in your DAW.
The Korg Collection is now a synthesizer suite of 11 synthesizers, 2 effects processors, and 1 drum machine in total, including the famous M1, TRITON, Wavestation, iMono/Poly, Polysix, ARP Odyssey, Triton , Prophecy and miniKorg 700s synthesizers.
Version 4 has its sights set on the '90s and '80s, with 2002's microKorg being the most notable addition. The plugin emulates the "sound, behaviour and look" of the original, including its analogue modelling oscillator, filter and amp sections. The effects section, arpeggiator and – of course – the vocoder are here, too, though the iconic gooseneck microphone doesn't come included.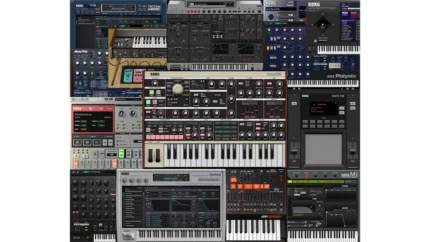 The Electribe-R is based on iElectribe for iPad, which landed in 2010, but offers expanded beat modes and the effects and step sequencer from both 1999's Electribe-R hardware and the subsequent mkII version. All the preset data from the iOS versions is here, too.
Finally, the much-loved Kaoss Pad – which we originally saw in 1999 – makes an appearance. This gives you your first opportunity to go under the hood and look at the "complex internal structure" of this dynamic effects processor, but retains the pad control surface that made it so intuitive and easy to use.
What's new in Korg Collection 4:
microKORG for Mac/Win fully recreates the sound, behavior, and look of the original "microKORG". It reproduces not only the analog modeling oscillator, filter, and amp sections, but also the effects section and arpeggiator. The vocoder function, which was one of the main features of the original "microKORG," has also been reproduced.
Electribe-R for Mac/Win is based on the "iELECTRIBE for iPad" released in 2010, but has expanded the beat modes and effects of the step sequencer to include the original "ELECTRIBE-R" and "ELECTRIBE-R mkII" as well as all the preset data from the "iELECTRIBE for iPad" and "ELECTRIBE for iPhone".
Kaoss Pad for Mac/Win brings the Kaoss pad effects processor to your DAW, maintaining the interface that prioritizes ease of use, with "touch pad control" at the forefront of the interface.
Korg Collection 4 Audio Demos:
KORG Collection 4 is available now, with an intro discount of 50% off through November 30, 2022. Find out more on the Korg website and upgrade pricing.
---