IK Multimedia has introduced Mojo Synthesis, a collection of SampleTank sound libraries, created by synthesist and sound designer Erik Norlander using his large collection of vintage analog instruments, that are based on advanced and experimental techniques.
The collection features five libraries – Alien Harbours, Circuit Damage, Ring of Doom, Swarm and Vector Vision – that offer over 10 GB of deeply sampled original instruments and 533 presets. The sound libraries work with all versions of SampleTank 4, including free SampleTank 4 CS.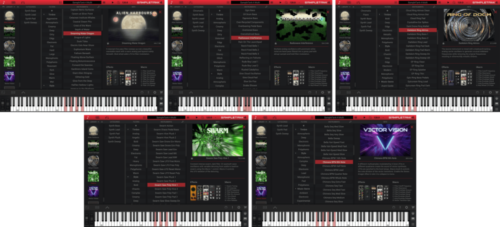 The 5 libraries are as follows:
Alien Harbours delivers a cinematic collection of atmospheres, pads and sweeps created using elaborate full patch samples from the Oberheim Matrix12, Sequential Prophet-VS and Prophet-5, Waldorf Microwave I Rev A, Korg DW-8000 and Alesis Andromeda. Also included are bonus leads and bass presets ready to add further depth and breadth to your music. 100 Instrument Presets, 4 GB of sound content.
Circuit Damage contains a beautifully flawed collection of carefully curated hardware synthesizers in dire need of repair and calibration. Delightfully unpredictable, Circuit Damage is the perfect collection for creating edgy, vibey synthesizer tracks where grit and chaos adds weight and drama. 108 Instrument Presets, 1.66 GB of sound content.
Ring of Doom is a library of all ring modulation synth sounds with a metallic, robotic quality and even a menacing, sci-fi sound. Ring modulation is a form of amplitude modulation where 2 signals are combined, and the output is both the sum and difference of their frequencies. The result creates wild sideband frequencies. 111 Instrument Presets, 1.86 GB of sound content.
Swarm features samples of all 22 oscillators from the Norlander Wall of Doom modular Moog synthesizer with both sawtooth and sine wave outputs, and then dynamically detunes them in equidistant intervals to create haunting and eerie soundscapes. 50 Instrument Presets, 914 MB of sound content.
Vector Vision brings vector synthesis to SampleTank in an animated, motion-filled library of presets that recreates the sound of "vector synthesis" made famous by the Sequential Prophet-VS and Yamaha SY22, which were the next generation of wavetable-based synths like PPG Wave and subsequent Waldorf products. 164 Instrument Presets, 1.56 GB of sound content.
Mojo Synthesis is available now for €149/$149.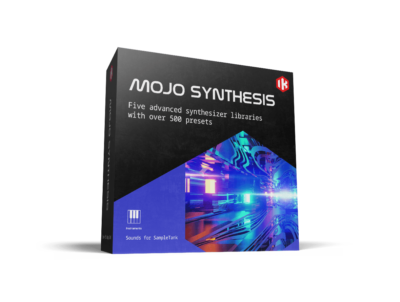 Find out more on the IK Multimedia Music Products
website.
---