Free Music Software: Audiokit developer Matthew Fetcher has introduced King Of FM, a free software synth for iOS and Mac that's based on sounds of classic '80s FM synths, including the Yamaha DX7, DX7II, TX81z, and SY77.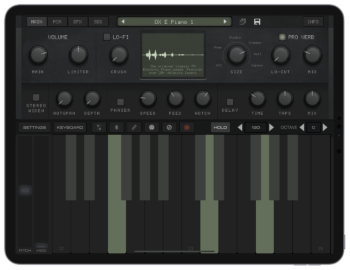 Features:
Based on Multi-sampled recordings of classic presets from original 80s FM synthesizers
Standalone iPhone/iPad app & iOS AUv3 Plugin
Use with a MIDI Keyboard or iOS DAW
Over 200+ Presets and over 10,000+ individual samples
FX: Phaser, Chorus, Reverb, Ping-pong delay, Crush, Stereo Fatten, and more
Over 2+ gigabytes of sounds compressed to under 400 mb
udio recording: record your sounds then export wav files
Use as an iOS Plug-in in hosts like GarageBand, AUM, Cubasis, Beatmaker 3, and more
Run on your silicon Mac (Standalone version)
Includes full lifetime license for both iPhone, iPad, and Silicon Mac
"We are all volunteers, we do not get paid anything to make this app," notes Fetcher. "We would be humbled if you checked it out. 100% of any proceeds from other apps go to support the AudioKit open-source project."
King Of FM is available now as a free download.
---