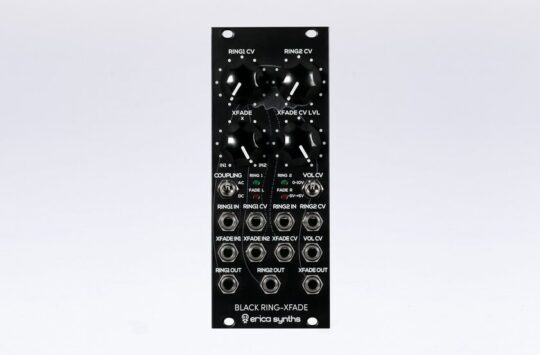 Erica Synths has announced the Black Ring-Xfade module for Eurorack.
The Black Ring-Xfade features two ring modulators/waveshapers and a crossfader that works both for audio and CV and a VCA.
It is an extremely versatile module for sound shaping. Unlike a conventional ring modulator that only works with a signal present on both signal and carrier inputs, the Black Ring-Xfade passes through the signal without alteration if no carrier is present.
Features:
Dual ringmodulaotr/waveshaper
Carrier level adjustment
Voltage controlled crossfader
Manual and CV control over crossfade
Selectable AC (audio) or DC (control voltage) coupling
VCA with selectable bias
The Erica Synths Black Ring-Xfade is available now for €150 and $189.
---