Cherry Audio has released Voltage Modular 2.5, a free update that adds native support for Apple M1 Mac computers and more.
Voltage Modular 2.5 adds new features, workflow improvements, and expanded sound design options.
New in the Voltage Modular 2.5 includes:
Unlimited cables per jack allows for endless modulation possibilities.
The new Busses feature offers a new way to build complex patches and eliminate messy cables.
Variations takes modular synthesis in unprecedented new directions, with unlimited variations available per patch.
Play variations individually, or use triggers or CV to move through variations in endless ways.
The IO Panel now includes an integrated Recording section, generating pristine 32-bit floating point audio files, sourced from the IO Panel main left and right outputs.
Workflow improvements, from custom module categories and search terms to optional auto-alignment of modules in cabinets.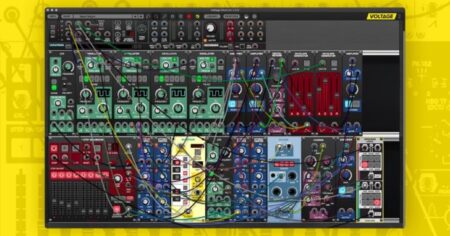 The Cherry Audio Voltage Modular 2.5 is available now as a free update.
Das Keyboard 6 Professional - Begin to enjoy your modern workday.
Jazz Up Your Valentine's Day With Filmora
Filmora 12
Edit Anywhere,in Every Way.
New Year's Eve Party
Sam Ash Holiday Deals
AmpliTube 5 MAX $/€99.99 deal
MAX Madness - up to 83% off MAX music software bundles
TONEX Pedal
Christmas Tree Video
---