New bundle is both history lesson and quirky duo of instruments.
Cherry Audio has introduced a collection of virtual instruments that emulate two early electronic instrument: the Novachord and the Solovox.
Both instruments hailed from the Hammond stable. Novachord is based on the revolutionary polyphonic instrument from 1939, while Solovox replicates a related monophonic keyboard instrument that was intended to provide organ-style leads.
The Cherry Audio Novachord is a significantly enhanced that offers 32 polyphonic voices, a resonant bandpass filter network of three resonators, the Brilliant, Deep, and Full tone settings of the original, seven Attack/Decay/Sustain envelope options, adjustable depth vibrato, and an integrated reverb effect with Room and Hall algorithms.
The Novachord built-in amp and speakers have also been emulated, and the look of the original – white Plakson and black Bakelite keys, teardrop levers and cherry wood – has also been replicated.
Cherry Audio Sono Solovix arrives with combinable Bass, Tenor, Contralto and Soprano switches, First Voice and Second Voice two-pole bandpass filters with level controls and variable centre frequencies, Deep and Brilliant tone settings, adjustable glide and fixed-rate vibrato, a mute control to filter harmonics from the oscillator voice, and an integrated reverb effect with Room algorithm and speaker emulation.
Extra authenticity points are earned for the way the vacuum tubes light up and respond to changes in settings.
Taken as a whole, Cherry Audio's Novachord + Solovox collection also offers 100 combined presets, flexible MIDI mapping, and its focus zoom-in feature.
Novachord + Solovox is available now with an introductory price of $39 (normally $59) and runs in VST/AU/AAX formats. A free 30-day demo is available. Find out more on the Cherry Audio website.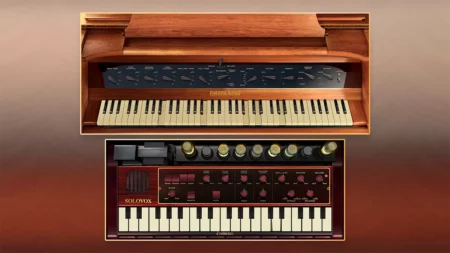 What they shared about Novachord + Solovox:
Manufactured by the Hammond company from 1939 to 1942 and debuting at the World's Fair, the Novachord contained 163 vacuum tubes and over 1,000 custom capacitors. Its divide-down oscillator architecture combined full 72-key polyphony with an early version of analog subtractive synthesis. The Novachord's architecture predicted the ADSR envelope, utilized a resonant band-pass filter, and included a vibrato unit.
Despite its historical importance, the Novachord did not enjoy commercial success. Although it resembled a standard organ at a glance, the front panel controls were not well-suited to the performance techniques of organists or pianists of the period. Production stopped in 1942, with Hammond only manufacturing around 1,000 Novachords.
Nevertheless, the instrument was used for decades on many notable era recordings, such as We'll Meet Again by Vera Lynn and Brother Bones's Sweet Georgia Brown. It was also prominently featured in film soundtracks including the intermission for "Gone With the Wind" and in the scores of "Rebecca," "The Maltese Falcon," and "The Ten Commandments." It is best remembered for its otherworldly sound as heard in horror and sci-fi genre productions such as "Cat People," "The Beast From 20,000 Fathoms," "20 Million Miles to Earth," and "The Gorgon."
On television, the Novachord remained a favorite of composers including Jerry Goldsmith and Harry Lubin in their work for The Twilight Zone and The Outer Limits, respectively. Today, fewer than 200 Novachords exist, and it is said that only five remain in operation.
The Solovox, manufactured by Hammond between 1940 and 1950, was another classic instrument of the era. Based on the Novachord's oscillator and divider circuits, the Solovox with its 18 vacuum tubes was a small monophonic keyboard instrument attached beneath a piano keyboard and intended to augment it with organ-type lead voices.
It consisted of two units: the three-octave mini keyboard, and a tone cabinet for the electronic sound generator, amplifier, and loudspeaker. Like the Clavioline and Ondioline, the Solovox produced a range of string, woodwind, and organ sounds and was widely used in light music from the 1940s and into the 1960s. Unfortunately, the introduction of compact transistor organs released in the 60s marked the end of the Solovox's popularity.
---