Cherry Audio has unveiled the "original and sensational synthesizer"  which the company teases 2 days back.
Cherry Audio today introduced Sines, a new software synth for Mac and Windows that combines additive, subtractive and FM in one polyphonic synth engine.
Sines lends itself well to three approaches to sound design:
Subtractive synthesis, where sine waves are wave-shaped into other familiar waveforms, then processed through an analog-style filter.
An additive synthesis approach stacks sine waves at different pitches and amplitudes, like a supercharged Hammond tonewheel organ.
FM synthesis – oscillators can modulate each other in multiple configurations, mimicking the classic DX-style FM carrier and modulator architecture, but with much less effort than original 80s instruments.
What they say about it:
"Employing four sine-wave oscillators, Sines utilizes diverse waveshaping methods to bend these pure waveforms into infinitely variable and complex shapes. When combined with its wide-ranging modulation capabilities and effects, users can create a distinctive array of unique timbres ranging from the sublime to sizzling."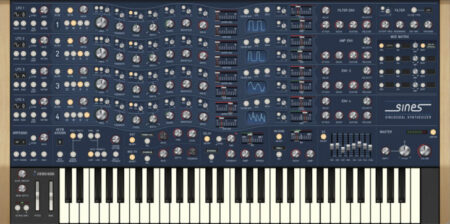 Sines is designed to provide immediate access to all sound parameters. The user interface features a wide array of illuminated indicators, colour, and mini oscilloscopes, to provide instant visual feedback.
The primary sound design controls are grouped horizontally in bands ,emphasizing its "four of everything" nature: four LFOs, four oscillators, and four envelope generators.
At the core of each section are the unique sine-wave oscillator waveshaping controls: feedback, phase, width, shape, wavefold, and drive, along with a sub (octave-down) oscillator and a super (octave-up) oscillator. Phase modulation and ratio dials allow the oscillators to be configured in a modulator/carrier arrangement for four-op DX/FM-style synthesis.
Sines also features Cherry Audio's most extensive multimode filter to date, four LFOs with 14 wave shapes, four envelope generators, an arpeggio, a "best of" selection of the company's effects, a drift function, and an integrated eight-band graphic EQ.
A four-slot mod matrix provides deep modulation options for nearly every Sines parameter.
The official video intro:

Sines is available now with an intro price of $39, normally $59.
Features:
Four independent sine waveform oscillators, with waveshaping controls to bend the pure waveforms into other standard waves (sawtooth, square, pulse, triangle) and more complex and novel shapes
Six waveshaper controls: feedback, phase, width, shape, wavefold, and drive, each with modulation source assignments available
Sub (octave-down sine wave) oscillator and a super oscillator (octave-up sine wave) for each oscillator
Oscillator utility function to copy/paste, randomize, or reset any oscillator settings
Glide (portamento) and keyboard (pitch) controls independently enabled for each oscillator
Up to 16-voice polyphony
Polyphonic (two modes), chord memory, single voice, and unison with unison detune
Resonant multimode filter with 6, 12, 18 or 24 dB/oct lowpass, highpass, bandpass, or notch modes
Four tempo-syncable LFOs with 14 waveforms: sine, triangle, sawtooth, sawtooth, exponential sawtooth, logarithmic sawtooth, three-step sawtooth, four-step ramp, exponential ramp, logarithmic ramp, three-step ramp, and four-step square random
ADSR filter and amplifier envelope generators with velocity controls
Two additional auxiliary envelope generators usable as mod sources
Four-slot mod matrix allows modulation of nearly every parameter in Sines
Arpeggiator with tempo sync
Four fully modulatable effects sections: multiple distortion and sample-crushing options; mod FX with phaser, chorus, flanger, or rotary speaker; delay with stereo, ping-pong, or tape delay modes; five reverb effects
Drift controls that optionally apply variation to oscillators and filter frequencies to add 'analog character'
Eight-band graphic EQ
Channel pressure and polyphonic aftertouch as a polyphonic modulation source
Support for MIDI Polyphonic Expression (MPE) — Pitch, Channel Pressure, and Timbre — making Sines capable of more organic and expressive performances when using MPE-compatible controllers
Cherry Audio's Focus zoom-in feature, as well as standard UI zoom and resize with drag
Over 700 presets created by a talented and diverse group of sound design veterans
Complete MIDI control and DAW automation for all controls, with easy-to-use MIDI learn
Preset and Global level MIDI mapping
Highly optimized coding for optimal performance with ultra-low CPU load
User-adjustable oversampling control
Sines is available in AU, VST, VST3, AAX, and standalone formats.
---