Cherry Audio models the Minimoog and comes up with the Minimode, "the ultimate tribute" to Bob Moog's iconic synth.
For the month of May, it is Bob Moog Appreciation Month, and Cherry Audio has honour it by kick it off with a plugin emulation of Bob Moog most famous synth, the Minimoog Model D. Minimode is designed to be "the ultimate tribute" to this legendary instrument, delivering "absolute authenticity".
And Cherry Audio will be donating a portion of profits from Minimode to The Bob Moog Foundation, a non-profit organization dedicated to preserving the legacy of Bob Moog and his work.
Does Minimode offer anything we haven't seen before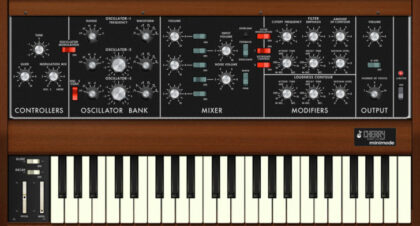 Cherry Audio says that its emulation is based on studying and measuring "every nuance, every curve, and every response of the audio". The interface is also lifted directly from the Minimoog. While some emulations offer additional features, the Minimode stays true to its inspiration, though as well as operating monophonically, and you can also choose to use two, four, eight or 16 polyphonic voices.
Additionally, there are more than 250 presets – and you can save custom MIDI controller mappings to individual presets or globally.
What Cherry Audio say about Minimode:
"Minimode is a painstaking virtual emulation of the granddaddy of all portable synthesizers, the legendary Minimoog Model D.
Whether you're seeking monstrous leads, funky basslines, or warm atmospheric pads, Minimode has you covered. In fact, the resulting tones are so mighty that we could not resist adding one particular enhancement. If one classic synth voice isn't enough, we've made it easy to dial in two, four, eight, or sixteen polyphonic voices guaranteed to bring the house down.
Need outstanding sounds even faster? Minimode includes a library of over 250 presets created by professional sound designers. Brass, keys, percussion, sound effects, and even MIDI Polyphonic Expression (MPE) presets and, of course, the signature earthshaking basses and leads the Mini is renowned for are just a click away."
Minimode synthesizer is available now for Mac & Windows, and runs in VST/AU/AAX formats, with an intro price of $39 (normally $59).
Cherry Audio is working with to raise funds for the Foundation in May. A portion of profits generated from Minimode sales will be given to The Bob Moog Foundation.
You can find out more on the Cherry Audio website.
---