Cherry Audio has introduced Dreamsynth, an original software synth design that the company describe as "a tribute to the celebrated hybrid analog/digital synthesizers of the mid-to-late 1980s."
The Dreamsynth design blends flexible dual-wave morphing oscillators, stereo filters, fully polyphonic analog strings, extensive and easy-to-use modulation, studio-quality effects, and MPE support, with a retro-style synth interface.
Features:
Three dual-waveform oscillators amount to six simultaneous virtual analog or PCM sample-based oscillators with up to 16 voices of polyphony. When modulation is applied, the unique A/B wave mix controls can create a myriad of evolving or rhythmic vector tones.
Combines authentic analog waveforms with sampled PCM waveforms. Includes a library of 430 looping, one-shot, and single-cycle PCM waveforms.
Dreamsynth also includes a string synthesizer that, unlike traditional paraphonic string synths, is fully polyphonic. It operates independently of the oscillator-based synthesizer, and both can be layered and split across the keyboard, with separate assignments for the arpeggiator and effects.
OB-style 12 dB/octave multimode stereo filters.
Deep modulation capabilities with 20 mod sources and over 40 destinations. Routings are immediately accessible through our innovative interface with individual pop-up menus and invertible knobs.
The effects section includes multiple distortion and sample-crushing options, a 12-stage phaser, chorus, flanger, and rotary speaker effects. Also available are numerous delay (including our acclaimed tape delay) and reverb effects, including our fabulous new "Galactic" algorithm.
Supports MIDI Polyphonic Expression (MPE), making Dreamsynth capable of more organic and expressive performances.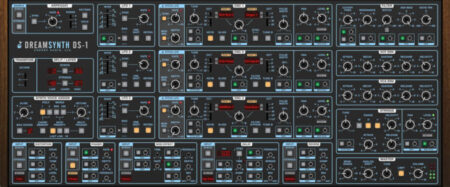 What they say about Dreamsynth:
"Dreamsynth draws its inspiration from renowned synths including the Ensoniq ESQ-1, the Kawai "K" series, and the Sequential Prophet VS. In the second half of the '80s, music production was rapidly transitioning from analog to digital. These "hybrid" synthesizers bridged the gap, combining the precision and flexibility of sampled digital oscillators with the warmth of analog filters. The combination of digital and analog sound produced instruments with character and a unique sonic fingerprint that still resonates today.
A Dream Come True
With the magic of these vintage classics in mind, we set out to design Dreamsynth. Dreamsynth is a "What if…?" synthesizer incorporating the distinctive qualities of this remarkable era with the best features of modern software instruments to create a uniquely 21st-century hybrid."
Dreamsynth is available now, with an intro price of $39, normal $59.
---