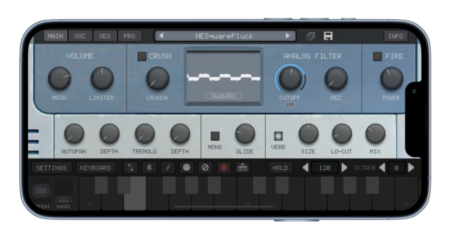 Matthew Fecher, AudioKit Pro developer let us know that they've released a new app for iOS, Super Ninja Entertainment Synth (SNESynth), that they call "the ultimate Chiptune and 16-Bit video game synth".
SNESynth is built on AudioKit, an open-source synthesis project, and based on samples from vintage hardware sound chips.
Features:
2,500+ samples made for this app
Standalone app & iOS AUv3 Plugin
Over 400+ presets
Real Synth Engine, including Pulse Width Modulation (PWM is the heart of chiptune sounds)
Use as an AUv3 (AudioUnit Plugin) in iOS DAWs such as Logic, GarageBand, Cubasis, AUM, more
Fun free-running step sequencer
Record your melodies, and sounds and export.
16-bit Synth, Drum, and Sound FX sounds included
Over 1 GB of sounds compressed to under 120 mb
Use with MIDI keyboard or iOS MIDI host
Includes full lifetime license for both iPhone & iPad
An intro from The Sound Test Room:

SNESynth is available now with an intro price of $2.99 (normally $14.99).
---