Ableton Live 12 major update brings a new synth, MIDI tools and interface tweaks to the feature-packed DAW. A new bi-timbral, MPE-compatible synth and a powerful multi-stage saturation effect are among the highlights of Live's latest update.
Today, Ableton has unveiled the latest version of Live, its flagship digital audio workstation (DAW). Live 12 is a major update that brings a host of new devices, MIDI tools, new sounds and workflow tweaks aimed at helping you "spark musical creativity".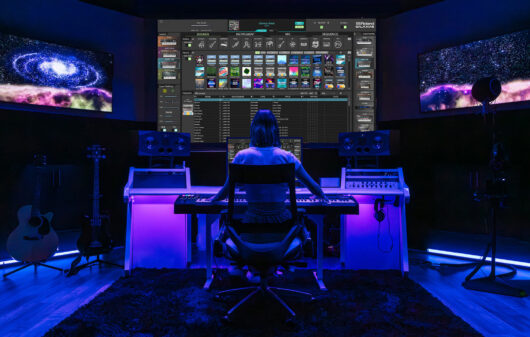 Live's latest upgrade most exciting additions are two new devices called Meld and Roar. Meld is a bi-timbral synth that's MPE-compatible, so it'll play nice with the next generation of MIDI controllers (including Push 3) and suit those looking to experiment with expressive live performances.
Known as an "experimental" synth designed for deep sound-shaping, Meld is based on a dual architecture that creates new sounds by layering two timbres together. The synth's two oscillators are equipped with a variety of waveforms, including complex waveshapes geared towards producing highly textural sounds. Each oscillator is equipped with two handy macros for quick adjustments, and those looking to go deeper will be rewarded by its extensive modulation and routing capabilities.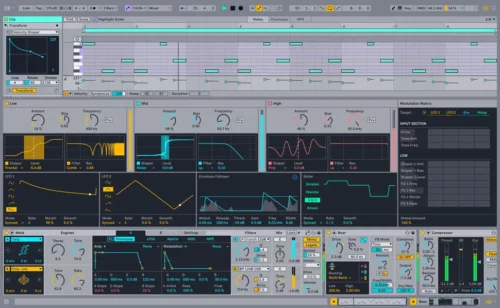 The second new device is Roar, a colouring and saturation effect that looks set to become a classic in Ableton's lineup of stock plugins. Capable of everything from subtle warmth and flavour to full-on sonic destruction, Roar's three saturation stages can operate in series, parallel, mid/side or multiband configurations and the device's modulation matrix and feedback routing make this a seriously powerful effects processor.
Another new instrument in Live 12 is an upgrade to the Granulator, a widely-used Max for Live device designed by Ableton cofounder Robert Henke. Like its predecessors, Granulator III is a granular sampler capable of isolating, repeating and processing tiny grains of audio, but the third version boasts a redesigned UI, makes it possible to record audio into the plugin in real time and adds MPE control over parameters such as vibrato, glissando and note bend.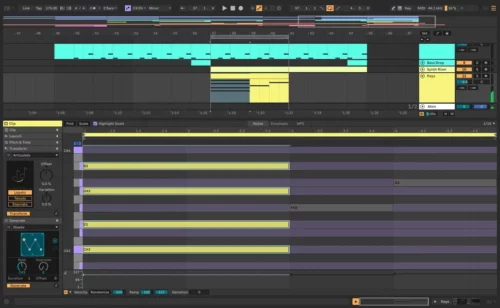 Alongside the new devices, Live 12 features an array of new MIDI tools aimed at making it easier to come up with new melodic and harmonic ideas. A handful of these are generative, meaning that Live will automatically generate melodies, rhythms and chord sequences based on a set of musical rules specified by the user. Live's MIDI Editor has also been improved, making it easier to stretch, split, chop or join notes and reshuffle melodies and rhythms into new forms.
Ableton has also made some handy adjustments to Live's UI: a redesigned browser and tagging system makes discovering and categorizing sounds much easier than before, while the new Stacked Detail Views let you see the Clip Editor above the Device View, providing an instant overview of everything that's happening inside a single track. What's more, Live's Mixer can now be viewed in Arrangement View, a tweak that's long overdue.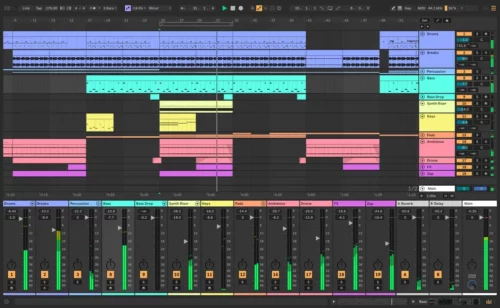 Another interesting feature in Live 12 is the Sound Similarity Search. This helps you find samples and presets in your library that sound similar to any sample that you're particularly fond of: specify your favourite sound and Live will scan all of the timbres in your library to offer up similar candidates. Samples in devices like Drum Rack can be swapped out for similar alternatives at the touch of a button, making it easy to quickly audition new sounds that fall within a particular niche.
All in all, Live 12 is a serious update that brings some fascinating additions to this already feature-packed DAW.
Ableton Live 12 will be officially released in early 2024 but owners of Live 9, 10 and 11 Standard and Suite can try out the public Live 12 Beta right now. A discount offer is running from now until the release of Live 12. During the promotion, all new Live 11 editions are 20% off. The purchase of any new Live 11 edition automatically entitles customers to a free upgrade to its corresponding Live 12 edition upon release.
Live 12 is priced at €79/$99 for Live Intro, €279/$439 for Live Standard and €599/$749 for Live Suite. Existing Ableton Live owners should log in to their accounts to check upgrade pricing. In addition, through Nov 30, 2023, Ableton is offering 20% off Push 3 Standalone. Find out more on Ableton website.
---