Bitwig Studio has received a free update, adding 8 new note effects and more.
Bitwig have announced the release of Bitwig Studio 4.1, the latest version of their increasingly popular DAW.
The innovative DAW's expanded list of creative MIDI effects now includes randomization, note repeat and humanization
The focus point here is the introduction of 8 new Note FX – Bitwig's term for MIDI effects which manipulate incoming MIDI data in various ways. The effects range from the functional to the creative, and can be combined together or modulated with Bitwig Modulators to create some unusual results.
Bitwig updated range of Note FX includes some effects that producers will recognise from other DAWs, like Note Repeat and Quantize, Ricochet and some more creatively stimulating options. The Humanize effect applies randomization to timing and velocity to give rhythms a more natural feeling, while Randomize takes this up a notch by randomly modulating any note expression, including pitch.
In addition, other updates includes Color palettes, Direct MIDI Output, Sampler and more. Color palettes can now be applied to tracks, clips and layers, with the option to transform image files into palettes within Bitwig. Track MIDI output is now directly accessible, and Bitwig's Sampler has been upgraded to feature a Release chain, triggering an instrument of your choice when a note is released.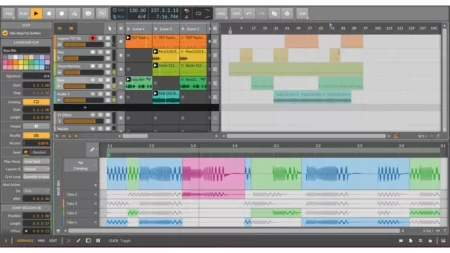 What's new in Bitwig Studio 4.1:
New Note FX devices:
Bend
Dribble
Humanize
Note Repeats
Quantize
Randomize
Ricochet
Strum
Updated Note FX devices:
Multi-note
Note Length
Note Filter
Updated Instrument: Sampler
New Color Palettes
Direct MIDI output is now available from all track choosers
All detected ports are shown in the Note Outputs section
The HW Instrument device is still available when you need delay compensation
Find out more on the Bitwig website.
Bitwig Studio 4.1 beta version is available for download today. The official Bitwig Studio 4.1 release is planned for this year.
Jazz Up Your Valentine's Day With Filmora
Filmora 12
Edit Anywhere,in Every Way.
New Year's Eve Party
Christmas Tree Video
Sam Ash Holiday Deals
AmpliTube 5 MAX $/€99.99 deal
MAX Madness - up to 83% off MAX music software bundles
TONEX Pedal
Das Keyboard 6 Professional - Begin to enjoy your modern workday.
---