Steinberg has announced the availability of Cubasis 3.4
Cubasis 3.4 is an update to the mobile DAW that adds Ableton Link support and more.
New in Cubasis 3.4:
Ableton Link Support – No matter if you are using iOS, Android, desktop or hardware: Ableton Link support in Cubasis makes staying synchronized with other Link-enabled apps easy and effortless.
MIDI Recording Workflow Improvements – Cubasis 3.4 adds many features to make recording easier. A long tap on the locator range lets you place the locators in a new position to quickly start your recording. Use the Chord Buttons to  create chord sequences, while recording melodies in one go. You want to find out how your pad sequence sounds at half speed? MIDI time-stretch lets you easily find out.
State Save / Total Recall Improvements – Cubasis 3.4 makes sure you will find the project in the exact same state as when you left the app last time. The editors remember the zoom level and position for each audio and MIDI event, allowing you to instantly continue with your edits. The same goes for the arranger, the mixer channel width, the setup choices you've made and more.
75+ Improvements – Cubasis 3.4 adds more than 75 improvements for performance and stability.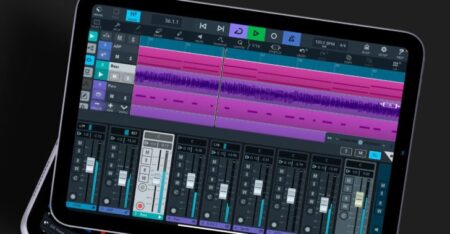 Cubasis 3.4 for iOS is available now for 49.99 euros, including German VAT, or $49.99. Cubasis 3.4 for Android is available for 29.99 euros, including German VAT, or $29.99
Das Keyboard 6 Professional - Begin to enjoy your modern workday.
Jazz Up Your Valentine's Day With Filmora
Filmora 12
Edit Anywhere,in Every Way.
New Year's Eve Party
Sam Ash Holiday Deals
AmpliTube 5 MAX $/€99.99 deal
MAX Madness - up to 83% off MAX music software bundles
TONEX Pedal
Christmas Tree Video
---
---