Waves' new BB Tubes saturation plugin features Beauty and Beast parameters, giving your mixes a fairy tale finish.
This is the second release in the company's 'custom-shop' Magma series. This promises "huge-sounding" tube saturation and operational simplicity. Turn up the Beauty knob for delicate harmonic saturation and "instant roundness, fatness and glow," or go for a more in-your-face distorted vibe by pushing the Beast dial. This also has an A/B switch that enables you to toggle between two different tube types.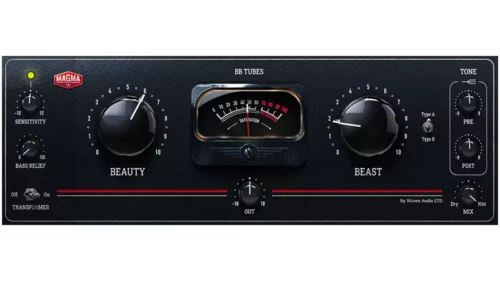 And, you can also blend the two knobs – in fact, Waves actively encourages you to do so. There's a multitude of different settings combinations, meaning an abundance of potential sounds.
BB Tubes can also be used to increase the perceived loudness of a mix – the soft clipping of the tubes can bring down transient peak levels – while other controls include pre- and post-hi-shelf EQ, transformer I/O, bass relief (which removes the low frequencies from the sidechain input), a sensitivity control (enables the user to choose the point at which the tubes are hit), a dry/wet knob and output gain.
BB Tubes runs on PC and Mac (VST/AU/AAX) and is available now for the introductory price of $24.99 (regular price $149). Find out more and download a demo on the Waves website.
---