Strymon has released a plugin version of its Deco pedal, giving DAW users the processing power create flanging, chorus, echo and double-tracking effects using an old-school workflow.
An emulation of its hardware pedal, Strymon's new Deco plugin emulates not one but two tape machines, which can be used in tandem to create a wide variety of effects. Flanging, chorus, echo and double tracking fall within its remit, all with a vintage vibe.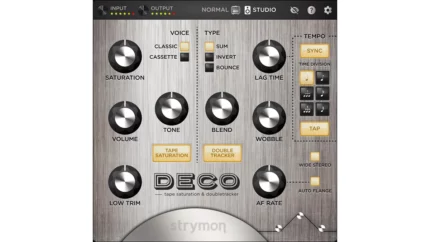 There are quite literally two sides to this plugin: Doubletracker and Tape Saturation. The controls in the Doubletracker section dictate the relationship between the two decks; The Tape Saturation section can be used to smooth out your signals and add transparent or more aggressive overdrive.
These two sections enable you to create the classic workflow favoured by the likes of Sun Studios and Abbey Road, but with far less hassle and all the convenience that a plugin affords. The interface is designed to be easy to use, and you can choose between the sonic characteristics of reel-to-reel or cassette tape machines.
It runs on PC and Mac in VST/AU/AAX formats.
Deco plugin is available now priced at $79, and there's a seven-day trial version. Find out more on the Strymon website.
---