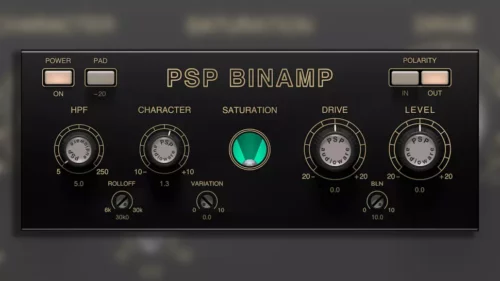 PSP's BinAmp captures the legendary tone of Pink Floyd's favourite delay in software
The Binson Echorec 2 is a legendary effects unit that helped to shape the sound of many influential recordings throughout the '60s and '70s.
But its most famous association has to be with Pink Floyd; this magnetic drum delay machine was a favourite of David Gilmour's and a fixture in his '70s rig.
The Echorec was revered not only for its abilities in the delay department, but also its overall tone, a warm and characterful sound produced by the unit's Class A triode tube preamplifier.
It's this very tone that PSP audioware has attempted to recreate in its latest plugin release, the PSP BinAmp. It's a preamp plugin aimed specifically at capturing the sonic character of the Echorec's preamp stage, an 'unequaled tone' beloved for its richness, saturation and analogue warmth.
BinAmp offers the user a variety of options for sound-tweaking, including controls for Character and Drive, a high-pass filter and high-frequency roll-off to shape the plugin's frequencies, and a control for achieving the desired balance of saturation.
The Variation control enables you dial in subtle behavioural differences between multiple instances of the plugin, emulating the unpredictability of the analogue equipment the plugin's inspired by. BinAmp looks the part, as well, and is equipped with a Magic Eye display for metering saturation and output levels.
PSP BinAmp is available now for Mac and Windows in VST/VST3/AAX/AU formats for an introductory price of $49, till August 14 (regular price $99).
Find out more on PSP Audioware website.
---