Polyverse has released Supermodal V1.0.0, a powerful new audio filter plug-in that utilizes hundreds of narrow filter bands to emulate the resonating qualities of acoustic bodies.
With the addition of a parallel classic multi-mode, zero-feedback state variable filter, Supermodal enables users to shape their audio in a wide range of ways.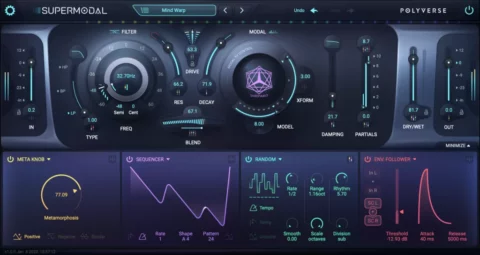 Features:
Modal filter capable of seamless morphing between modes
27 Modes ranging from musical to mangled
200+ presets and counting
Drive SVF filter input and Modal filter output
Modulate any parameter with fast, intuitive modulation sources
Cross modulate between 4 modulation slots
24dB per-octave slope state-variable filter
Blend between SVF and Modal filter
Self-resonate when resonance is boosted past 100
Control partials to completely eliminate high or low frequencies
Shape modal tails with decay and damping controls
Supermodal is available now for $99.
Das Keyboard 6 Professional - Begin to enjoy your modern workday.
Jazz Up Your Valentine's Day With Filmora
Filmora 12
Edit Anywhere,in Every Way.
New Year's Eve Party
Sam Ash Holiday Deals
AmpliTube 5 MAX $/€99.99 deal
MAX Madness - up to 83% off MAX music software bundles
TONEX Pedal
Christmas Tree Video
---