Polyverse Music has introduced Wider 2.0, a free stereo widening plugin, created in collaboration with psytrance producers Infected Mushroom.
Wider gives users the ability to expand the stereo image of any signal to an awe-inspiring amount of width. What makes Wider unique is that it is completely "mono-compatible", meaning that any signal that has been widened will always remain in phase with itself, even if summed to mono.
Wider 2.0 includes a low end bypass function, allowing users to exclude the low frequencies from the stereo widening effect, along with GUI scaling settings, mono and bypass buttons, improved stability and minor bug fixes.
Wider can be used to increase the stereo image of any signal up to 200% of full stereo for an extra wide, exaggerated effect.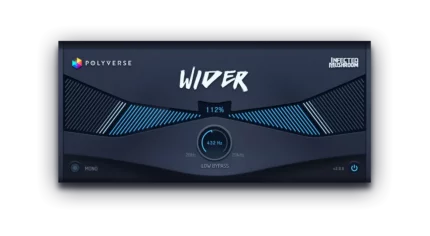 "Wider has always been one of our most popular plugins, and we're excited to release this new version with even more control and flexibility for our users," said Assaf Dar Sagol, CEO and founder of Polyverse Music. "The bypass low end function is a game-changer for anyone looking to enhance the stereo image of their sound without losing control of the low end."
Wider 2.0 is available now as a free download.
---