Scaler EQ is the "world-first" plugin that uses the key of your song to determine which notes it cuts and boosts. It's not just a 'musical' EQ, but a music theory EQ…
Certain EQs are often described as 'musical', but not in the way that Scaler EQ is. In what's described as the "world-first", this new equalizer plugin  from Plugin Boutique – which previously released the Scaler composition plugin – is designed to enhance note frequencies that are in the key of your song while reducing note frequencies that aren't.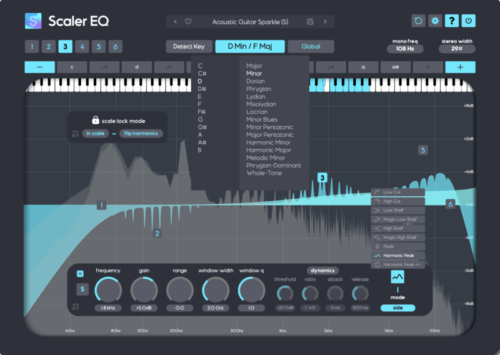 This is made possible by the presence of the Harmonic Peak and Plus/Minus filter types, and promises to create warmer low and sweeter highs when you're boosting, and more focused bass and less harsh keys when you're doing your out-of-key cutting. You can set Scaler EQ to cut in-key frequencies as well if you need to.
Key detection is automatic, though you can also customise the selected scale by adding or removing notes. You also get the more familiar shelves, bells and high-pass/low-pass filters that you'll find in traditional EQs.
And then there's the Magic Shelf, which does its business with stereo properties in mind. This means that, if you boost a Magic Shelf in the bass region, it will work harder on the band's mid signal than it does on its side information; reduce the level of that same bass Magic Shelf to make it a cut, and you'll cut the side signal more than you cut the mid information.
The high-frequency Magic Shelf complements this by increasing sides with more strength and reducing mids with greater gusto.
Each band in Scaler EQ can be set to work on stereo, mid or side channels, and you can also collapse low frequencies to mono or increase stereo width with a dedicated dial.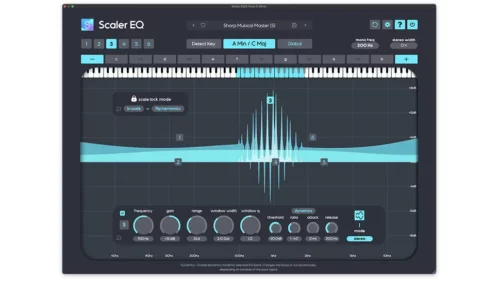 Features
Patent pending musical EQ with harmonic band types that boost in-key frequencies and cut out-of-key frequencies
Familiar EQ controls translate to a regular workflow – but one that adds more colour
Choice of band types for traditional boost/cut EQ or harmonic EQ
Magic Shelf bands deliver punchier low end and smoother highs
Key detection sets the EQ's target scale
Dial in dynamics for any band (Threshold, Ratio, Attack, Release)
Add or remove scale notes for a specific colour (eg, four-note chords or just fifths)
Creative unique EQ responses by combining magic shelves, harmonic filters and cuts
Each band can be set to work on stereo, mid or side channels
Enhance stereo width and collapse low frequencies to mono
Scaler EQ is available now for the intro price of $49/£39.38 and runs on PC and Mac in VST/AU/AAX formats. You can also currently get it on a 12-month subscription for $3.99/£3.21 a month (regular price $5/£5 a month).
Find out more and download a demo on the Plugin Boutique website.
---