Cut down on your heating bill with Overheat, Sampleson's free analogue-style saturation plugin.
Saturation is the aurally satisfying, harmonically flavoursome by-product of pushing analogue signals just a little hard. Sampleson Overheat is a new, free option for you to try.
Like most plugins, you can use Overheat for both subtle and more extreme saturation, and on individual tracks or across an entire mix. You can adjust the input/output gain and drive level, and there are a couple of tone-shaping controls, too (Color and a low-pass filter).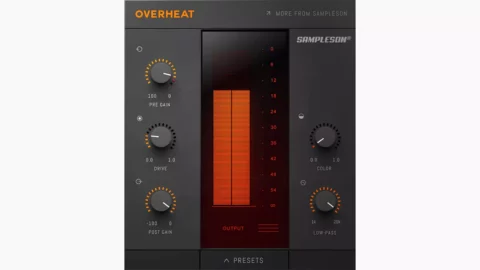 Sampleson says that Overheat produces a "more realistic and natural-sounding saturation effect" than some of its rivals because it models the harmonic content of the signal before it undergoes non-linear processing. If that doesn't mean much to you, the upshot is that harmonics are added in a musical and pleasing way. That's the theory, anyway.
Overheat runs on PC and Mac in VST/AU formats and is said to deliver low CPU usage. Its parameters can be automated in your DAW, and there's a scalable HD interface. You'll need to hand over your email address if you want it, but otherwise it's completely free.
Go get it on the Sampleson website.
---