Meet MolliLooper, the stuttering, freezing iOS audio looper that "never forgets" – A standalone app and AUv3 plugin that's always listening.
Molli Labs has introduced MolliLooper the latest release from Matt Davey and Oliver Greschke, who've previously won acclaim for their Elastic Drums, Elastic FX and Flip Sampler apps.
MilliLooper is not an ordinary looper – it is also a stutter/freeze effect that's said to be particularly suited to live performance.
Operating either standalone or as an AUv3 plugin, once activated, MolliLooper will keep recording the input audio. This is why its developers call it "the looper that never forgets."
The recorded audio can then be triggered whenever you need it, and it's easy to jump to specific sections that snap to grid at a variety of resolutions. The timing is synced to host clock, and you can fire off everything from multi-bar loops to machine gun 16th and 32nd notes. And you can scroll through the recording.
Other features include a built-in low-pass/high-pass resonant filter that's based on a 4-pole ladder design. Long-tapping the XY pad that's used to control this will keep the filter position locked. And limiter/booster effect.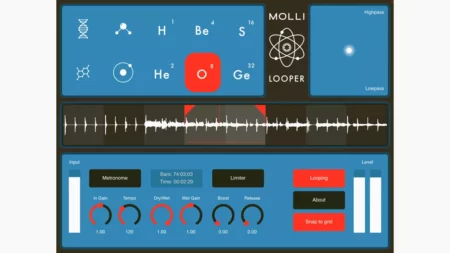 Features:
Combination of looper and stutter/freeze effect
Continuous recording: instant recording/looping
Runs in sync with host clock
Jumps to meaningful places in the recording: "Snap to grid"
Grid: 1/32, 1/16, 1/8, 1/4, 1/2, 1, 2, 4, 8 bars
Ability to scroll through the recording
Lowpass/highpass resonant filter
Long Tap XY keeps filter position
Limiter/booster effect
Tap on Molli icon for basic information
MolliLooper is available now priced at $4.99/£4.99/€.5.99. Find out more on the Molli Labs website.
---