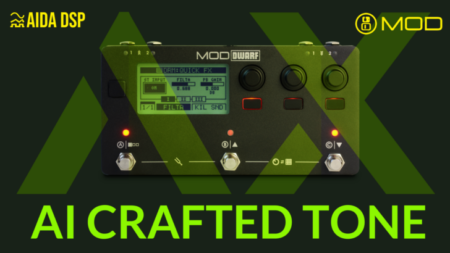 MOD Audio, the company formerly known as MOD Devices, has announced the release of AIDA-X, an AI neural model player developed in partnership with AIDA DSP. AIDA-X adds to the quality of the MOD Audio ecosystem with neural amp models that have been trained on high-quality audio data, giving musicians the dynamic response and sound they expect from a real guitar amp.

With AIDA-X, musicians can easily load and play a wide range of amp models, and carry an unlimited number of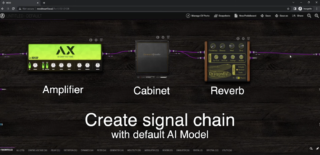 realistic-sounding amplifiers – all inside the portable MOD Dwarf. Additionally, AIDA-X offers a flexible set of controls for the modeled amps, so that it's easier to craft the perfect tone.
A simplified training process allows users to capture their own physical gear and share these models with the community. Professionally curated models of iconic amplifiers will also be released soon together with AIDA DSP, providing users with a broad collection of plug-and-play sounds.

In addition to being an important part of the MOD platform, AIDA-X is also available both as a plugin and standalone version for any DAW. Model files for AIDA-X can be loaded in all versions of the software, providing a "seamless experience" at home, in the studio or onstage.
Alongside the release of AIDA-X, MOD Audio advances with the development of the MOD Assistant, an AI-based tool that provides tone suggestions to guitarists, subsidized by a German innovation program. The MOD Community already has access to a beta version and is helping to improve it with valuable feedback. The incorporation of Neural Models in the repertoire of the MOD Assistant will be the next stage.
"We're thrilled to bring AIDA-X to the market and see the incredible potential it holds for the future" said Gianfranco Ceccolini, Co-Founder and CEO of MOD Audio. "With its advanced AI processing and cross-platform compatibility, we believe AIDA-X lifts the MOD platform to a new level, with incredibly good sounding gear modelling powered by strong community exchange of models"
AIDA-X is available for free for the MOD Dwarf and as a free plugin for computer users, via the MOD Audio website. There is also a browser-based version for testing, and discussion and support in the neural category on the MOD Audio forum.


---