Minimal Audio has released Cluster Delay, a multi-tap delay designer with integrated effects. This versatile effects plugin is stacked with features and highly tweakable.
Minimal Audio has announced the release of a new effects plugin, Cluster Delay. A powerful and full-featured multi-tap delay, the plugin's capable of producing a rich variety of delay effects from simple, functional repeats to experimental sonic textures and expansive soundscapes.
A new plugin from the developers behind Rift and Morph EQ. Cluster Delay enables the user to fine-tune delay sequences of up to eight taps, shaping these in real time by tweaking controls for ramp, space and scatter. The delay can then be routed through six effects for further processing: Diffusion, Chorus, Wobble, Frequency Shifter, Phaser, and Flanger.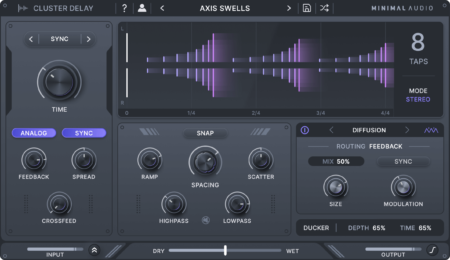 Cluster Delay features controls for spread and crossfeed, making it easy to produce lush, spatialized delays that span the stereo field. For those who crave the sound of analogue hardware, there's an option to introduce analogue modelling to the signal, while the Wobble effect will produce tape-like tones in a similar fashion to the wow and flutter controls found on many other delay plugins and effects units. The plugin's outfitted with a clean, easy-to-navigate GUI that visualizes the delay pattern while making the most important controls easily accessible. Cluster Delay arrives loaded with 100 presets that, if the audio examples on Minimal Audio's website are anything to go by, sound pretty good.
In addition, there's a built-in high and low-pass filter, mid-side mode and a ducker function that allows the input signal to be heard above the delays, sidechain-style. Cluster Delay also benefits from the addition of a Clipper option to dial in clip distortion at the output stage.
Cluster Delay is available for Mac and PC in AU, VST, VST3 and AAX formats. The plugin costs $49. Find out more on Minimal Audio website or watch their walkthrough video below.
Das Keyboard 6 Professional - Begin to enjoy your modern workday.
Jazz Up Your Valentine's Day With Filmora
Filmora 12
Edit Anywhere,in Every Way.
New Year's Eve Party
Sam Ash Holiday Deals
AmpliTube 5 MAX $/€99.99 deal
MAX Madness - up to 83% off MAX music software bundles
TONEX Pedal
Christmas Tree Video
---