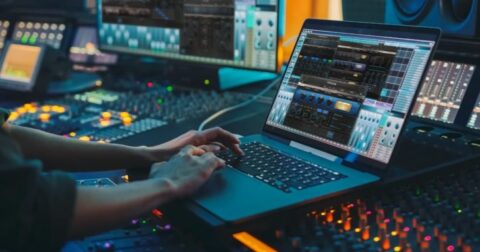 GPU Audio and Vienna Symphonic Library have announced the MIR Pro 3D Multi Impulse Response Convolution platform, powered for the first time by GPU Audio technology.
The announcement is a milestone for GPU Audio, because one of the most established plug-in manufacturers is now partnering with them to take advantage of the potential of GPU-powered audio effects. They say that, by leveraging the power of your GPU, it opens up system resources ten-fold, so you have fewer resource headaches and more creative options.
Many modern computers now have extremely powerful graphics processing units (GPU), designed to support graphics-intensive applications like gaming. GPU Audio's platform is designed to take that massive processor and make it just as useful for audio as it is for graphics, freeing up your computer's CPU to handle other tasks.
Vienna MIR Pro 3D is designed to let you approach space as a musical instrument, giving you virtual representations of some of the world's most interesting acoustic spaces, with up to four listener/mic positions and virtually unlimited source positions.
MIR's core engine relies heavily on convolution; a mathematical process that ordinarily pushes the CPU to the limit, with a huge number of sound sources (such as orchestras), multiple output channels (for the likes of 3D audio) and long reverb tails resulting in hundreds, or even thousands of convolutions. For example, an orchestra made up of 80 stereo sources, mixed in 7.0.4 for Dolby Atmos, will create a maximum of 1,760 positional impulse responses and consequently the same number of convolutions (80 x 2 x 11).
Vienna MIR Pro 3D Features and Benefits:
Direct access to virtual representations of some of the world's most exciting acoustic spaces, from up to four listener/mic positions and virtually unlimited source positions.
Based on pure, true-to-the-source audio recordings upscaled to 3rd Order Ambisonics – no algorithmic reverb or physical modelling.
Full 3D audio support, six degrees of freedom – instruments or any other sound source, virtual microphones and microphone capsules can be moved in a fluid three-dimensional space and rotated and tilted in any direction
Total flexibility of audio output formats, from stereo to surround to immersive and raw Ambisonics.
The unique MIR Control Icon allows for easy placing of any audio signal in a three-dimensional room and control of almost any sonic aspect quickly and intuitively.
Tabbed instances provide multiple venues simultaneously, with instruments taking up "Roles" to move between venues.
Individual RoomEQ settings for different signal sources allow for specific fine-tuning of the "wet" signal
Character Presets (such as 'Air', 'Silk', 'Bite', 'Distant', 'Warm') for quick timbral changes
Advanced Preset Management of Venue Presets and Roles
Optional distance-depending air absorption filter and volume scaling
Adjustable Room Tone (natural noise floor) recorded from each microphone position in full Ambisonics
Directional frequency profiles with reflectional information from every single Vienna Instrument, plus a selection of "General Purpose" profiles for 3rd party sources, for the most accurate rendering
Works with any commonly used sampling frequency, up to 192 kHz
AU/VST/VST3/AAX Native plug-in for direct integration with most modern DAWs
Find out more at the VSL website.
---