ZDV is more than just a replication of the hardware. Erica Synths' Zen Delay gets a software successor in the shape of the ZDV plugin.
ZDV is described as "not simply a digital replica or replacement" of its Zen Delay hardware, Erica Synths' new ZDV plugin is an "addition" and a "virtual successor" to it.
The reason? Because as well as adding the flexibility of DAW operation, such as full automation possibilities, there are also several new features to play with.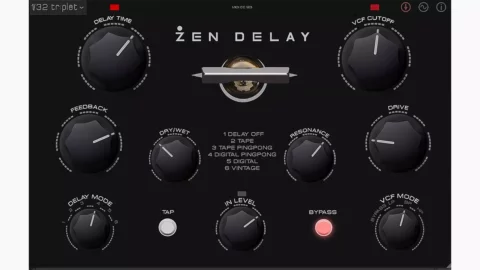 That said, Zen Delay Virtual does look very similar to the hardware, and it does indeed model the Zen Delay's analogue filter and valve overdrive. And, its digital stereo delay has been recreated, as well.
But ZDV offers more: a dedicated modulation page, custom routing options, triplet and dotted rhythms in sync mode and clean and soft clip modes at the input gain stage. In addition, there are also presets, plus the option to save your own.
As such, it seems like the claim that ZDV is effectively a sequel to Zen Delay is justified. ZDV is available now for the introductory price of €99 and runs on PC and Mac in VST/AU formats.
Find out more on the Erica Synths website.
---