Fiedler Audio has announced Dolby Atmos Composer and Dolby Atmos Composer Essential, plugins that they say bring Spatial Audio to any DAW.
Dolby Atmos Composer combines multichannel audio rendering and straightforward routing, 3D-panning of tracks, and signals from DAW tracks into the 3D world of Atmos.
The Dolby Atmos Composer's Beam Plug-In allows creators to send their audio signals from anywhere in the session into the Composer, the home of the Dolby Atmos Renderer. Signals there can be panned to the Dolby Atmos bed and individually treated as objects in 3D space on one of the 128 independent channels available, including full 3D panning automation.
Advanced Mixing Workflow
With the Dolby Atmos Composer workflow, you can bring all the features of your DAW and your favorite plugins, into your Dolby Atmos mix. You can also record new tracks while already mixing for Dolby Atmos, something impossible when using certain standard Dolby Atmos workflows.
Exporting finished 3D audio projects into the standard ADM/BWF Format is very straightforward. They say that delivering sound and music for the major platforms is no challenge anymore – for the likes of Netflix, Apple Music, Tidal, Amazon Music, and even Binaural Stereo for any distribution platform that is not yet supporting Spatial Audio.
World-class 3D Reverb
From version 1.5 onwards, the 3D reverb Spacelab will directly connect to the Dolby Atmos Composer, bringing world-class immersive reverberation to Dolby Atmos mixes with just one simple click.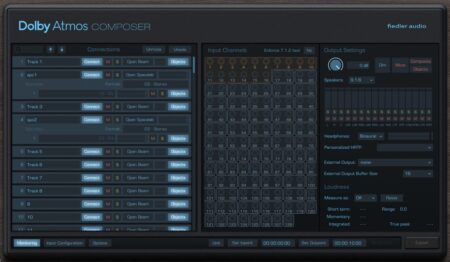 Features:
Produce Dolby Atmos content on any DAW, even if the DAW is not capable of multichannel audio

Monitor on multichannel speakers from any DAW directly from the Dolby Atmos Composer plugin
Up to 9.1.6 for monitoring
Use personalized HRTF for binaural monitoring
Easy setup without the need of manual routing configuration, no external app required
Connects to Dolby Atmos Beam and Spacelab (from version 1.5 onwards)

Dolby Atmos Beam – panning plugin

Position your inputs as objects around the listener easily
Record movement with mouse as automation
Convenient mapping of parameters to all major Pro Tools control surfaces
Panning to composite speaker layout or as dynamic objects
Quickly set objects to predefined speaker positions
Spacelab connection (V 1.5 onwards)

Direct connection of our world class 3D reverb to the Dolby Atmos Composer circumventing DAW limitations

Spacelab sources as dynamic objects in Atmos
Arbitrary speaker layouts as composite in Dolby Atmos
Export/Import

Export Dolby Atmos ADM/BWF for distributing to all major platforms

Simultaneous export of speaker and headphone outputs of the renderer
Import ADM/BWF files for playback, corrections and re-export

Watch the video above for the full rundown. The results are impressive, even through headphones.
Dolby Atmos Composer comes as a set of two plugins (Beam and Composer), supporting all the major formats like AAX, VST3, and AU, and will be released during Q2 2023 €/$ 249. Dolby Atmos Composer Essential offers basic Dolby Atmos support for €/$149. Check the Fiedler Audio website for details.
---